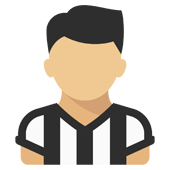 Content count

2,102

Joined

Last visited
Community Reputation
319
Buona
About vix961

Recent Profile Visitors
The recent visitors block is disabled and is not being shown to other users.
È l'amichetto di Ronaldo. Come mai reputi siano sbagliate?

vix961 replied to homer75's topic in Amarcord

Solita juventus orribile nel primo tempo.. Matuidi e Mandzukic osceni, col calcio non hanno più niente a che fare. Nel secondo tempo molto meglio, basta higuain in campo e si vedono manovre offensive

Quanta ipocrisia. Ti vorrei vedere nella vita reale non dire mai una parolaccia. Pretendente che il calcio sia un paradiso dove niente può essere detto... Ma per favore..

Digli che è un tifoso di serie c.

Siamo arrivati in finale di Champions con due centrocampisti. Questa moda che noi non possiamo giocarci è una sciocchezza... Non vogliamo. Ma è diverso. Avevamo pjanic e khedira, tutt'altro che due fulmini di battaglia e di contenimento

Mi viene difficile festeggiare l'8 di fila nella settimana in cui siamo stati eliminati dalla Champions . Proprio non ci riesco. Vi invidio in un certo senso.

Chiellini ha anche rotto. Sempre spaccato quando conta. Ha una puntualità incredibile. Una sentenza. Come ci si fa a fidare ancora di sto qui non mi è chiaro. È un giocatore assolutamente inutile se manca ogni due per tre. Urgono centrali e di livello.

Mi dispiace ma Allegri ha finito il suo ciclo. Sono due anni che per me siamo finiti. Uno scempio costante. Guardare la Juventus è diventato uno strazio, una sofferenza. La felicità che dovrebbe dare il calcio non esiste così. Preferisco rischiare anche uno sconosciuto e perdere. Allegri ahimè non lo reggo più.

Sinceramente, forse hai ragione. Sarà un problema di pancia piena.. Volevo con tutto me stesso la Champions. Uscire com l'ajax lo reputo uno scandalo. Me lo posso aspettare dal Real dopo tre Champions, ma non da gente che deve avere una fame atomica nel vincerla. Il campionato propio fosse per me neanche lo giocherei con un titolare. Proprio ne ho le scatole piene di scudetti.

Personalmente, lo scudetto meno sentito. Non sono riuscito ad essere felice neanche 1 minuto sforzandomi. La peggiore delle ultime 8 stagioni. Uno scempio continuo culminato con l'ennesima delusione.

Nota positiva della sconfitta: Romero è indubbiamente meglio di Rugani. Che ha la personalità delle mie pantofole.

Ma si, non si può vincere sempre. La partita era prevedibile andasse così. Non ne farei un dramma. L'unica cosa è che alcuni si confermano inadeguati anche come seconde linee. Perin, nonostante tutto deludente per me. Nel precampionato mi dava una sicurezza che ora non c'è.

Certo che sentire gli inglesi così spocchiosi(tottenham in primis) fa effetto. Usciremo con almeno un 5-0 totale contro le inglesi. Eccetto city, nel caso 4-1

vix961 replied to homer75's topic in Amarcord

Tante volte ho sentito parlare di bernardeschi come un pacco... Pentitevi.. Semplicemente devastante. Come mi pento io di can che stasera pareva un panzer

vix961 replied to homer75's topic in Amarcord

Indubbiamente c'è qualche altro problema. La gestione benatia, lo stesso costa e dybala sono esempi lampanti di come qualcosa non stia andando per il verso giusto. Il motivo non lo sapremo mai.