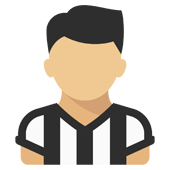 Content count

309

Joined

Last visited
Community Reputation
36
Neutrale
About Tobias del piero

Recent Profile Visitors
The recent visitors block is disabled and is not being shown to other users.
Prima del Gol di Ronaldo avevamo giocato come con il Brescia.... lenti e compassati! Il risultato per quanto sprecato è bugiardo....un RIGORE vergognoso concesso alla Spal....se quelli son Rigori...

Sicuramente tra pedaggio e benzina di soldini andrebbero via... e tantini A fare il pendolare ogni mese me ne andrebbe via solo 💯 euro 😉 cosa nn da poco!

Più che altro penso che andrei in un posto sicuro....(anche se mai dire mai)

Nell' azienda di adesso aimé nn c'è l' ha passiamo bene tra stipendi pagati in ritardo e con acconti e in più Faccio una settimana di lavoro e una settimana di cassa integrazione(stando a casa)..... La ditta dove dovrei andare è un indotto GROSSO un' Azienda dove c'è lavoro e dove avrei la possibilità di crescere professionalmente! Potrei andare in macchina da casa mia ci corrono circa 50 minuti di macchina o anche in treno perché dalla stazione di arrivo all'azienda ci dista pochi minuti cn l'autobus (8-10 minuti). Ad oggi per quello che so fare guadagno 1300....la me ne offrono 1800(assegni familiari compresi cn5 livello).

Ho una moglie con due bambini di 7 e 3 anni!! Diciamo che andrei a migliorare la mia reputazione lavorativa, il lavoro che faccio si mi piace!! Alla ditta che dovrei andare mi vogliono prendere! solo che ci siamo presi una settimana di riflessione... perché logicamente pure loro dovranno ragionare... Spero che tutto vada bene 🤞

Buonasera a tutti,mi trovo in una situazione molto delicata,ossia cambiare posto di lavoro allontanandomi un po' da casa,anche se andrei molto a migliorare!! Nella vita ci vuole coraggio lo so ma mi sento frenato dalla paura di prendere la scelta sbagliata....cosa mi consigliate!?

Io se sono diventato Juventino e mi sono avvicinato al calcio il merito è suo... (Volevo farmi il codino come Baggio) àuguri Divin CODINO!!!

La vittoria di Madrid 1-3 del 2018.... peccato solo per quel cavolo di rigore......la migliore partita europea da quando siamo tornati a competere!!

Tobias del piero replied to homer75's topic in Amarcord

Oggi grande prova di Rabiot 👍😉

Il primo a Del Piero senza Dubbio😉👍💪◻️◼️⚡

Per tecnica lo paragono a Redondo!! Però è molto più veloce 😂😂😂 cosa nn da poco!

Tobias del piero replied to homer75's topic in Amarcord

Abbiamo rischiato negli ultimi 10/15minuti.... perché ci siamo abbassati troppo! Ho visto un Rabiot in crescita (anche se deve sbagliare meno passaggi in compenso a recuperato tanti palloni), Ottimo De Ligt 😜! Pjanic un po' sottotono, Bene Pure Danilo nel ruolo di terzino sinistro..... DYBALA e CR7 si vede che sono in forma!! Male Ramsey pretendo di più anche se per me nn è un trequartista puro... è più una mezz'ala! Per il resto +4 sulla seconda!! 💪💪💪🤞 Avanti così!!◻️◼️⚡

Kulusevsky gioca da esterno sx(anche se è mancino) ma può giocare anche da interno....mi ricorda un po' De Bruyne!