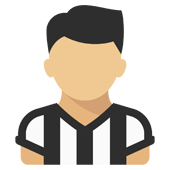 Content count

226

Joined

Last visited
Community Reputation
54
Buona
About paladinoo

Recent Profile Visitors
The recent visitors block is disabled and is not being shown to other users.
La cosa più bella è stata allegro ridicolizzato dalla stessa idea del calcio che nelle conferenze stampe si diverte a prendere in giro 🤣 Quella del circo per capirci

Guarda io Dybala lo critico aspramente, ma è possibile che ogni giocatore che incontriamo sembra più forte dei nostri pari ruolo? Credo che non sappiamo cosa fare in campo dalla metà campo in su e questo penalizza tutti...

Bravissimo, Allegri che gira su se stesso come una trottola

I nostri tutti a riposo sabato, e 0 voglia contrasti corsa forza. Spero che qualcuno abbia attaccato al muro il livornese

Allegri Massimiliano e le sue 0 idee 🤣 Ma alla società gli va bene, okay, i miei soldi però ve lì scordate

È uscito de Jong ! Non so perché al 30'...

Lo dicevo a titolo informativo Meglio per noi

L Ajax intanto gioca con tutti i titolari

paladinoo replied to giusardegna's topic in Amarcord

Se diamo 3 punti alla spal r contribuiamo a fare scendere il Bolfogna va bene

paladinoo replied to homer75's topic in Amarcord

60' a costa a Ferrara, poi al ritorno lo metterei dal 1' con l'idea di entrare in campo per fargliene uno nei primi 15 minuti... Ronaldo-kean-costa Con Can a fare le transizioni

paladinoo replied to mercimichel's topic in Altri Sport

Sì playoff che partite da guardare consigliate ad un neofita del basket?? Sarei rimasto sveglio per LeBron ma uscito lui mi rimane sono Harden

Se entrerà Kean e segnerà anche oggi non ho idea di come possa fare a rimetterlo in panchina

Bigica quello che pensava solo alla figa??

Speriamo che a Amsterdam entri all'85 sullo 0-2 possibilmente

Vi racconto una storia un mio amico che faceva calcio con me è sammarinese, non professionista e fisicamente normale, e giocava nella nazionale, a Rooney gli tirava delle randellate nelle caviglie a palla lontana e questo nemmeno se ne accorgeva. Credete che dei non professionisti con la forma fisica di Beppe Grillo possano fare male a Ronaldo?