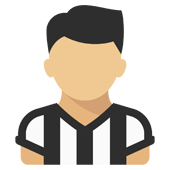 Content count

168

Joined

Last visited
Era una battuta, su. Vediamo di non ammorbare l'ambiente interno. Ci vuole un attimo a diventare piazze pazze tipo Roma o Milano.

Già. Quest'anno almeno quattro gol gli hanno annullato per lieve fuorigioco.

Mi piacerebbe tantissimo One Step Beyond dei Madness. Da 0:40.

Abbiamo perso punti contro Sassuolo, Lecce e Fiorentina. Sarebbe meglio se le incontrassimo noi le big, guarda.

Sul blog dice che il rigore su De Ligt è netto. Per quello da lui causato, afferma che le immagini non sono chiare, ma che sembrerebbe fallo. Per quanto mi riguarda, non ci sono analisi migliori di quelle di Marelli.

"Errore grave" fa ridere i polli. Di falli non sanzionati ce ne sono diversi in ogni partita, e questo è uno di quelli, episodio banale quasi a metà campo su cui nessuno avrebbe detto una parola se non fosse che la Juventus poi è riuscita, per meriti suoi, ad andare in rete. Sottolineo "per meriti suoi" perché non esiste alcuna relazione causale tra gol e mancata segalazione: non è che il nostro attaccante ha segnato spintonando il suo marcatore, per intenderci. Gli amanti del calcio apprezzano le reti, quelli della polemica le rimesse invertite.

Never Again replied to homer75's topic in Amarcord

E' in uno stato di forma mostruoso.

Never Again replied to homer75's topic in Amarcord

Ma quanto mi piacerebbe che si sostenesse la squadra sempre e comunque, anche se in svantaggio, anche se si sbagliano fraseggi, se si fa una partitaccia. I brusii ed i fischi non fanno altro che peggiorare la situazione, accrescono la tensione.

Perché si sentono male se non hanno qualche nemico. Un campione come Evra, che ci elogia in continuazione, viene quasi disprezzato. Dovrebbe essere un vanto, altroché.

1

Male solo i minuti finali. Per il resto, buona partita.

Vabbè, io ci provo, giusto per stimolare qualcuno a cacciare dati seri e a parlare con cognizione (diversamente da me, intendo). Da ciò che ho capito, il FPF funziona a trienni. Vengono valutati i bilanci 2016-2017, 2017-2018 e 2018-2019. In questo triennio, il debito massimo deve essere di 5 milioni. E'possibile anche raggiungere i 30 milioni di debito nel triennio, ma la società deve ripianare. Sopra i 30 milioni, invece, non si può andare. I bilanci della Juve dicono questo: 2016-2017 --> utile di 42,6 milioni 2017-2018 --> rosso di 19 milioni 2018-2019 --> rosso di 40 milioni circa (secondo le stime) Dal debito vanno sottratti però i costi virtuosi. Questi ammontano a circa 30 milioni (Juventibus). Inoltre, è possibile aggiungere l'eventuale surplus dei due anni precedenti il periodo di monitoraggio. Ad esempio, per il periodo di monitoraggio 2017-2018, 2018-2019 e 2019-2020, la Juve può avvalersi ancora dei 42,6 milioni di utile del 2016-2017 e dell'utile del 2015-2016, oltre ai costi virtuosi (30 milioni?). Se così fosse, la Juventus per stare ok col FPF dovrebbe raggiungere circa il pareggio di bilancio per l'anno 2019-2020. Ho detto sciocchezze totali?