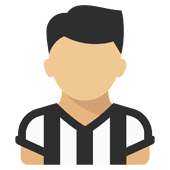 Content count

761

Joined

Last visited
Everything posted by ValCas
ho seguito questo forum da anni ormai....nessuno e' contento di niente...peccato. Se qui facciamo i dirigenti...mai combiniamo una squadra intera.....!

Sinceramente questo e' vero, Mandzukic ha dato sempre l anima....invece questo mezzo pupazzo ha fatto l attore in campo...Ramsey non ha pudore ha fallito quel penalty in un incontro molto importante......perche non va a nascondersi! Non ci sono regole per giocatore sempre rotti.?..eh non sempre quando gioca in nazionale non e' rotto!!!!!!

anche io sono preoccupato... ma questa confusione di Arthur complica la cosa.... come hai detto tu c'e' sempre il se!!!!!!

si si ho capito...forse hai ragione

Mourinho - Arthur che bella coppia

forse perche sei una persona per bene

cosa c'e' col Atalanta che noi non sappiamo.........come hai detto questi ci hanno fatto dei bei danni....

ma per loro il mondo e' solo l'Italia.......they use the inner circle!!!!!!

mi ricordo quel epoca di Bettega, Causio, e tante altre che poi hanno fatto la storia

apparte a Wembley che bello ero li...poi avevo un ricordio personale un bel foto lui in mezzo a me e' mia moglie

ma queste cose stanno succedendo con varie squadre....ez Genoa...mah!

allora non sono solo io che vedo queste cose......

sono d'accordissimo.....anche se con quello la non faccio nessun scambio ...modo di dire!!!!!!! questa sara un buon affare

sai il mio amico Zhang!!!!!!

ValCas replied to Montero non fa prigionieri's topic in Juventus forum

Se festegiamo il quarto posto, mah!!!!! Allegri e' molto fortunato.......crollo del Atalanta, Roma, Fiora, ed anche Lazio......per fortuna l'abiamo fatta... almeno abiamo guadagnato qualche soldo in piu...

sono d'accordissimo...perche il Berna la giocata non si trova mai!!!!! e l'altro e meglio prende la pensione!!!

hanno detto che questo non e' calcio ma rugby........si si e' vero questo non e' calcio ma belle figure come quelle di Lautaro che cade ad ogni spallata..... Ho visto tutto l'anno questo tipo di gioco...niente var...niente parole fuori luogo...ma quando c'e' la Juve in mezzo e' fine del mondo.....

Buona Pasqua a te e tutti i nostri fans....sono d'accordo si vede che la superlega sta facendo danni al nostro club.

bella questa ma e' la verita'

ValCas replied to homer75's topic in Amarcord

partita oscena...ma berna ha giocato la giocata ma va!!!!!!