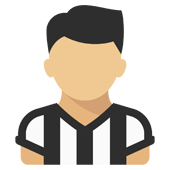 Content count

56

Joined

Last visited
Community Reputation
8
Neutrale
About Bettega Dip

Recent Profile Visitors
The recent visitors block is disabled and is not being shown to other users.
L'Inter la vedo molto male, ieri sono stati fatti a pezzettini da una squadra che non aveva nessuna motivazione speciale oltre l'antipatia.

Io non credo che prenderemo Sarri, ma se la sua non scelta sarà per pure questioni di protocollo è una decisione da mediocri, leggo continuamente questo appellativo di "rozzo", "benzinaio" e altro, sono qualifiche superficiali e soprattutto ingiuste, Sarri è un uomo complesso, sicuramente difficile ma con una autentica personalità, è un allenatore scientifico e colto, chiaro che per chi valta le persone dalla giacca bella ed i capelli è inadatto.

Come siete esagerati, Inzaghi è un uomo di calcio, io credo che i calciatori non devono mai essere superbi ed io non credo che Cristiano lo sia,

E se tanto mi dà tanto, Agnelli che prese Higuain dal Napoli quando l'argentino ci fece gol al San Paolo eche prese CR7 quando ci butto' fuori dalla Champions la sera della sconfitta con la:Ajax ha subito pensato di prendere l'allenatore che era venuto con una squadra di ragazzi a giocare un calcio di personalità dentro il suo stadio.

Questo è sicuro ed infatti fanno bene a non prenderlo, solo che non è giusto classificare un allenatore solo per l'albo d:oro, se no Mancini lo si dovrebbe considerare un Top, mentre è uno che ha avuto, grazie ad uno stile personale, molte più occasioni di quanto meritava. Io comunque prenderei Ten Hag

Ma lo hai mai visto giocare il Napoli di Sarri? Una squadra buonina senza panchina lunga che imponeva il proprio gioco a squadre di gran lunga più attrezzate, figurati cosa avrebbe potuto fare con una rosa come quella della Juventus.

Come allenatore si, è il migliore degli Italiani, ma lo penso da molto tempo, però non lo ritengo adatto all'ambiente Juventus anche perché per il suo passato a Napoli è odiato (irrazionalmente) dai tifosi.

Ah già perché Allegri con l'Empoli ed il Napoli avrebbe fatto man bassa di scudetti e coppe.

Se Insigne va all'Inter la stampa lo fa diventare il nuovo campione del calcio italiano, pari a Del Piero, Totti, Baggio e si fa 100 partite in nazionale.

Ma perché Inzaghi no? La Lazio fa un bel calcio, è un uomo con personalità adatta, non costa una botta, io credo che Cristiano non avrà nessun problema con lui perché mica è un calciatore bizzoso che vuole fare la prima donna per cui serve qualcuno che gli tenga testa, io spero e credo che sarà lui il prossimo, qualcuno dice che piange ma a me non sembra e poi quando si perde tutti piangono.

È un continuo leggere di altre squadre che non vincono da tot tempo, allenatori che perdono le finali, non è da Juventus fare questi ragionamenti da "mal comune mezzo gaudio"

Ma che deve fare? Può mai ridere?

Abbiamo fatto i Ponzio Pilato, non ci siamo presi la responsabilità di buttarli fuori dalla Champions, se poi con l'Atalanta facciamo una partita allo spasimo è proprio un atteggiamento di "cartello".

Non mi aspettavo un finale di campionato così antisportivo, che senso ha favorire delle squadre a discapito di altre. Ero certo che avrebbero vinto negli ultimi dieci minuti. l'Atalanta sarà vittima sacrificale sull'altare del denaro delle banche e dei tifosi romanisti del CONI e noi che facciamo la figura degli accomodanti davanti la stampa internazionale.