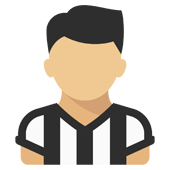 Content count

133

Joined

Last visited
Community Reputation
21
Neutrale
About Gobbo1103

Recent Profile Visitors
The recent visitors block is disabled and is not being shown to other users.
Grande Alvaro! Sono arcicontento sia tornato. È maturato e molto diretto nelle risposte con pochi fronzoli: bravo.

Non era indifferenza ma rassegnazione per il sistema contrattuale col quale era arrivato. Si sapeva che sarebbe dovuto andare via a tutti i costi, per cui, questo, limita gli slanci...

Indifferenza amico mio, indifferenza. L'unico potere che abbiamo è "comprare o non comprare', se gli dai peso ha peso 😉

Assolutamente no. Non solo per i vari summenzionati, ma anche perché sarebbe un lasciare aperta la porta ad altre eventualità come questa pandemia farlocca e imporre altri lock down arbitrari...tanto se si interrompe tutto a metà di nuovo, playoff e playout, tutto regolare, tutti contenti! Aria!

Gobbo1103 replied to ufobianconero's topic in Campionato

Perdonami, intervengo molto poco di solito, ma il giochino di accontentare la massa di frustrati con l'eccesso di zelo in salsa autolesionista non risolve una cippa, anzi, incoraggia ulteriormente il continuo latrare alla luna. Comprendo che il famoso motto preso dalla "politica" (tra virgolette ovviamente, altro mondo ridicolo) < Calunnia, calunnia che qualcosa alla fine resterà > potrà anche portare un po' di acqua pro domo loro, ma la miglior risposta rimane quella di asfaltare e proseguire con ogni mezzo lecito al netto dei pareri altrui. Alla fine abbiamo vinto, punto, conta quello. Per concludere, suggerirei alla nostra società di cercare sponsorizzazione presso le aziende produttrici di gastroprottetori per l'impennata di vendite procurata in questi anni, in fondo ce la meriteremmo....

1

L'ottimismo è il sale della vita...

Per scaricare la testa. Niente tensioni, è una partita a calcio.

Nella partita contro la SPAL gli hanno dato più di qualche palla da mettere dentro, ma nada de nada... Lui è CR7, non un Petagna, dunque lo dimostri. Altrimenti non è un valore aggiunto, dunque meglio il profilo basso. Ok?

Ha fatto benissimo a dire così invece... Che cominci a metterla dentro, magari un po' di pepe nel c potrebbe accenderlo no?

Gobbo1103 replied to giusardegna's topic in Amarcord

A parte tutto è bello vedere che si impegnano, almeno si patisce un po'. L'altra sera sono andato a vedere in bar Torino-Milan e mi sono cresciuti di 2 taglie i pendagli... Mamma mia che scarsume! E noi ci lamentiamo dei nostri!

Gobbo1103 replied to giusardegna's topic in Amarcord

E farlo prima di subito, alla lettura delle formazioni!

Gobbo1103 replied to giusardegna's topic in Amarcord

Molto meno provenendo da una zona a sud del Po. Sono emiliano anche io e ormai con l'anticiclone africano che ci fa compagnia da febbraio stiamo per cambiare pelle, per cui la SPAL correrà 3 volte noi... Un piccolo Porto vedremo.