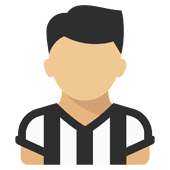 Content count

2,536

Joined

Last visited
Community Reputation
390
Buona
About Emanuele99

Recent Profile Visitors
The recent visitors block is disabled and is not being shown to other users.
Devono vendere i giornali,non sanno una beata fava…

Vediamo a fine mercato in che contesto si inserirà Paul,questo è la discriminante,ovviamente presupponendo che sia atleticamente sano …

Se guardi solo l'aspetto sportivo senza dubbio,ma se paragoni gli investimenti,il monte ingaggi e il vantaggio competitivo che avevi tre anni fa niente è peggio di questo scempio (per coloro che non di ricordano in tre anni fai ricapitazzato per 700MILIONI !!!!)

Da 4 perché non è stato costruito niente

Non mi ricordo una partita in cui abbia fatto diversamente

Grande la passione bianconera che non fa dormire la notte per una sconfitta,c'è del vero in quello che dici soprattutto alla luce del doppio confronto (coppa/campionato)tuttavia l'atteggiamento di Alkegri è Preistorico,non gioca più nessuno in Europa in questa maniera,se ti rinchiudi in area ,alle due o alle tre il gol lo prendi…

Parola per parola,Vangelo!

Anche un cieco lo dovrebbe vedere…

Questa dirigenza non ha un progetto,Allegri potrà anche vincere,ma non può essere un progetto….

Onestamente sembra che la Juve negli ultimi tre anni stia girando un cortometraggio su scherzi a parte nel football italiano,ogni commento è superfluo perché lo scempio è così evidente in ogni settore societario che rende inverosimile capacitarsi di cosa e come si possa fare tutto ciò,,.

Sulla base delle aspettative che l'acquisto presupponeva direi senza dubbio Rush…

Intervento ineccepibile,inoltre non dimentichiamo che stiamo parlando di una materia estremamente opinabile come il gioco del calcio,dove la verità è oltremodo sfuggevole e aleatoria…

Emanuele99 replied to homer75's topic in Amarcord

Si ,parole da tifoso vero,ma i preparatori atletici della Juve sono imbarazzanti….

Siamo a Pasqua e non si può dire cosacce,Allegri ha gestito benissimo il lavoro fatto da Conte,allenare è un altro mestiere….