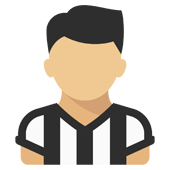 Content count

2,046

Joined

Last visited
Community Reputation
317
Buona
About Emanuele99

Recent Profile Visitors
The recent visitors block is disabled and is not being shown to other users.
Le grandi squadre sono grandi perché complete....poi trovare l'alchimia giusta dipende da molte cose ,ma perlomeno un fuoriclasse per reparto è necessario...

Analisi di puro buon senso...

Però se lo era procurato da se...

Mai entrato nel cuore di qualsiasi vero bianconero....

Si ,ma non dipende da Ronaldo,al di là del calo oggettivo che sta palesando i primi due anni nelle partite importanti è stato il king,il problema di Cr7 è l'incoerenza dell'operazione,lo compri,gli costruisci subito una squadra fortissima attorno per la coppa e ci provi ...in realtà preso lui non.c'erano più i soldi per qui tre innesti decisivi da fare,anzi sei stato costretto a fare plusvalenze rovinose,e qui non so se AA abbia pisciato fuori dal vaso o sperato di avere a operazione fatta un supporto diverso dalla galassia Exor,;se a questo aggiungi la struttura societaria probabilmente non completamente all'altezza del ultimo step che dovevi fare (lavorato benissimo in ricostruzione,ma da Gonzalo in poi un errore dietro l'altro)ecco che la situazione attuale non è poi così strana,ma Ronaldo individualmente ha fatto ciò che doveva...( non sono tifoso della Ronaldese ).....

Sarebbe da 6 (sufficiente),se chiudessse la stagione secondo,7 se portasse anche la coppa Italia,ma soprattutto ci facesse capire di riuscire a far esprimere la squadra con un gioco interessante,da far pensare bene per la prossima stagione,vedo questo molto difficile,ma mai dire mai!

Uno nessuno centomila,possiamo arrivare secondi come quinti,dipenderà quasi esclusivamente testa....

Strafinito,succede ....soprattutto ai giocatori ptrettamente fisici...

Deligt gioca da capitano,non credo vada via ammenoche lo obblighino...

Probabilmente fortissima no ,ma fra avere un buon allenatore e il nulla c'è la sua differenza...

Forse per non retrocedere no ,ma sicuramente per l'Europa legue...

A inizio stagione avrei firmato per un terzo posto è un quarto di finale ,ero stato realista,onestamente la proprietà che per tantissimi anni ha contribuito fattivamente alla costruzione della nostra grande storia,oggi mi sembra più un ostacolo che un asset ,mi dispiace ma forse sarebbe meglio un altro azionista di riferimento...