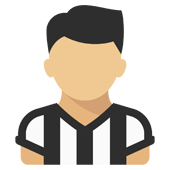 Content count

585

Joined

Last visited
Community Reputation
180
Buona
About Odrake

Recent Profile Visitors
The recent visitors block is disabled and is not being shown to other users.
Ronaldo andandosene dallo stadio ha chiaramente detto che della juve non gli frega un piffero. Lui vuole solo i suoi record.

Sarri ha fatto il suo lavoro. Ineccepibile.

Talmente storto quando corre che gli escono pure le costole, buona guarigione charo. Ma non fatemelo più vedere in campo

Il napoli non ci vende nemmeno luperto a noi

Andasse a quel posto ronaldo, la juve esisteva prima di lui ed esisterà dopo di lui, capita di avere un periodo no, nessun problema ma se vieni sostituito non ti comporti in questo modo. Mi aspetto delle scuse, io da tifoso mi sento offeso.

Szczesny 7 Cuadrado 6 Bonucci 6 De Ligt 6,5 Sandro 5 Bentancur 6 Pjanic 5,5 Matuidi 5 Bernardeschi 5 Ronaldo 5 Higuain 6,5 Dybala 7,5 Douglas 6,5 Rabiot 5,5 Sarri 5

Odrake replied to giusardegna's topic in Amarcord

Sarri affetto da allegrite

Dopo un inizio sconcertante ha iniziato a ingranare facendo intravedere caratteristiche e qualità da juventus. Può migliorare ancora molto ma soprattutto deve osare di più.

Ad oggi l'unica squadra seria che hanno affrontato in campionato siamo stati noi, e hanno preso le scocce. Aspetto quando dovranno affrontare atalanta, roma e napoli

Il calo dei primi anni 2000 fu dovuto all'infortunio. Fidati che il del piero pre infortunio sarebbe anche oggi un dei giocatori più forti al mondo, dietro solo a cr e messi

L'inizio di stagione dell`anno scorso Nonostente allegri facevano un calcio nolto propositivo, anche più di quest'anno. Il problema è che poi ci siamo afflosciati come sempre

Non osare criticare, guaiiii sei un drolll

Odrake replied to homer75's topic in Amarcord

Io mi preccupo proprio di quando inizieremo a perdere con questo gioco e questo stato di forma. Spero le cose cambino altrimenti continuando con questo andazzo quest'anno rischiamo grosso. Per fortuna in italia abbiamo rivali che pensano già da sole ad autodistruggersi, vedi il piangina conte che spara a a zero e i fuggitivi napolesi.