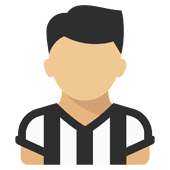 Content count

512

Joined

Last visited
Community Reputation
131
Buona
About Fragrossi10

Recent Profile Visitors
The recent visitors block is disabled and is not being shown to other users.
Fragrossi10 replied to homer75's topic in Amarcord

Squadra in stato comatoso, e in ammutinamento. Allenatore illicenziabile per via del contratto e protetto dal presidente, ma inviso a parte della dirigenza. Dirigenza che fa errori continui a tutti i livelli da 4 anni. È una catastrofe sportiva.

Per piacere, non iniziate a massacrare Di Maria, come avete fatto con Ronaldo, Higuain, Kulusevski, Bentancur, Rabiot. Piaccia o no, la nostra salvezza passa in gran parte da lui.

Fragrossi10 replied to homer75's topic in Amarcord

Puoi parlare quanto vuoi, questa partita l'avevi vinta

Fragrossi10 replied to homer75's topic in Amarcord

Non è che Inter, Napoli e Milan abbiano fatto questo calcio spettacolo. Non è la playstation, giocare dopo tre giorni da una partita di champions è complicatissimo per tutti

Fragrossi10 replied to homer75's topic in Amarcord

Il fatto che facciamo pena non autorizza a scipparci. Non l'ha vista mezza volta, si è fermato a vedere la posizione senza vedere se c'era influenza. Siamo nel campo della malafede.

Forse solo De Sciglio, e magari Sandro.

Non è proprio così. L'ha sostituito con Soler e Vitinha. Ruiz è una mezz'ala che farà la panchina di Verratti.

Per nulla, sono sempre estremamente critico (puoi leggere i miei messaggi) e ho sempre avuto grande fiducia in Allegri, che a me piace(va). Dire però i giocatori della Juve farebbero panchina firenze semplicemente è alterazione della realtà.

Stai parlando di due titolari di Brasile e Argentina, ex di City, Real e Psg. Dire che ha giocato meglio, non equivale a dire che sia più forte. Non scherziamo dai

Sono in linea di massima d'accordo. Non rimpiango nessuno di questi (tranne forse Kulu), ma chiediamoci perché siamo diventati dei tritacarne per giocatori che comunque poi fanno discrete/buone carriere ai più alti livelli.

Qualcuno mi conferma che sono 4 annI? Non trovo il comunicato ufficiale.

E soprattutto ha lavorato con una rosa soprannumeraria e i cui leader a fine campionato sono andati in pensione, in America o altrove, hanno smesso di giocare o sono andati in declino definitivo. Toppammo malamente Lione (pur con tutte le attenuanti di quella Champions strana), ma ricordo grandissime prestazioni con Inter e Atletico. E soprattutto, è stato l'unico a riuscire a far coesistere Ronaldo e Dybala.

Sisi figurati, era per arricchire il discorso. Comunque, anche io lo dico da tempo. Servirebbe a cambiare completamente approccio e mentalità. Perché sia uno straniero buono, ovviamente.