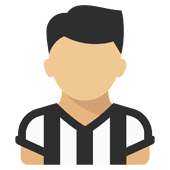 Content count

279

Joined

Last visited
Community Reputation
68
Buona
About BianconeroCR7

Recent Profile Visitors
The recent visitors block is disabled and is not being shown to other users.
SI, decisamente SI. Non avendo centrocampo mi sembra un buon punto da cui ripartire.

Dici che avremmo resistito 30 minuti arroccati in Area? Perché il nostro baricentro era in porta da Perin grazie a quei cambi sciagurati di Allegri.

Questo tipo di post erano quelli presenti nella bacheca Inter fino a 8 anni fa. Ora si sono invertite le parti. La verità è che facciamo pena, allenatore anni 30, mentalità difensiva, zero grinta, calciatori inadeguati al blasone Juventus, gente che ha smesso di giocare a calcio ed altra che dovrebbe darsi al baseball.

Da spedire su Marte insieme a Kean, De Sciglio e Alex Sandro. Che sciagura.

Bonucci e quello Zombie di Locatelli per Bernardeschi e Zakaria sono stati la nostra condanna. Difendere, difendere, arroccare, autobus davanti alla porta, Allegri Style

Voto 1. Calcio anni 30 Allenatore con mentalità difensiva, autobus davanti alla porta, catenaccio. Interpreti da serie B ed ex calciatori in squadra. Dirigenza allo sbando, lasciano andare via Dybala (a mio avviso corretto) e tengono De Sciglio, Alex Sandro, Rabiot, Kean... Non si può sempre vincere, ma neanche ridursi così.

Sintetizzo il mio pensiero. Sul 2-1, Inter in crisi psicologicamente, pensi a difenderti sostituendo un ottimo Bernardeschi (buoni spunti, salta l'uomo, crossa) ed un buon Zakaria (tanta legna zero qualità). La squadra recepisce l'ennesimo messaggio sbagliato: DIFENDIAMOCI E RIPARTIAMO. Ne seguono 30 minuti arroccati in area di rigore dove INEVITABILMENTE prendi goal con una difesa inventata, mal organizzata (Alex Sandro è un ex giocatore) e perché no ci scappa il solito episodio da Var Pro Inter. La partita l'ha persa quello che anni fa il sig. Tévez definì EL *, e che poco tempo fa Ronaldo indicò come un cagasotto. Allegri, le responsabilità sono tutte tue. Poi se vogliamo parlare dei singoli o dell'arbitro facciamolo pure ma solo dopo aver ammesso, con grande onestà che il nostro allenatore è un CAGASOTTO. Noi non sappiamo cosa successe...

Nel 1990 i catenacci e gli autobus davanti la porta funzionavano. Oggi no. Sei 2-1, in fiducia, ATTACCA, CORRI... Se mi cambi modulo e inserisci un difensore mi fai capire che sei un *!

ahahahah non hanno fatto giudicare gli episodi da Cesari ahahahaha MALAFEDEEEEEEEEEEEEEEEEEEEEEEEEEEEEEEEEEEEEEEEEEEEEE

Brozovic era da secondo giallo per aver calciato via la palla.... Cesari

C'è da fare i complimenti all'inter La squadra ha fatto bene per 70 minuti ma poi aveva bisogno di cambiare....

Allegri stravolto su canale 5

Ancora che parlate di rigori e arbitro.. Ma l'avete capito che sul 2-1 ha pensato nuovamente a difendersi ??? Cosa ti aspetti? Il baricentro si è abbassato fin dentro la porta di Perin * trota, ma come pretendi di fare 30 minuti in area con ripartenze ?? Invece di litigare con quel cretino di Farris pensasse ai suoi errori che siamo nel 2022 e il suo calcio è fermo al 1990 * di quella trota

A mio avviso c'è da richiamare Conte.

Esprimiamo un calcio anni 30, con degli interpreti da serie B. Il nostro allenatore è un difensivista nato, sul 2-1 dovevamo spaccare la partita... Il cambio Bernarda Bonucci è da codice penale. Siamo diventati l'Inter degli ultimi 8 anni.