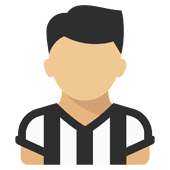 Content count

223

Joined

Last visited
Community Reputation
75
Buona
About Thias94

Recent Profile Visitors
The recent visitors block is disabled and is not being shown to other users.
Buon anno a tutti fratelli!

Si è veramente assurdo, siamo ad inizio campionato con una squadra con tante novità e pedina di giovani, con un nuovo mister e una nuova idea di calcio. Bisogna avere pazienza e andarci molto cauti con i giudizi ma qua un minimo di equilibrio sembra un miraggio, se vincessimo 10-0 contro il Barcellona si lamenterebbero che abbiamo concesso 1 tiro in porta nel finale.

Anche dopo un 3-0 in Champions League da qualificati trovano comunque il modo per rompere i *, sta diventando insostenibile questa situazione qua dentro.

Sono d'accordo ma credo che ormai il focus della Juve sia più la Champions che il campionato, in Europa questi spazi ci sono per come vogliamo giocare noi.

Si sul 3-0 con 0 titoli in palio visto che siamo qualificati, bravissimo aspettiamo la fine della stagione per esprimere giudizi sensati.

Sono perfettamente d'accordo, ma per me ha potenzialità per essere il numero 1 e se dovesse andare in un top team come il real o con noi potrebbe diventarlo.

IN realtà hanno dimostrato di non averne nemmeno 10 😂 la cosa che mi fa ridere è che questa gente qua vorrebbe Klopp in panchina, lui che ci ha messo 5 anni per far crescere il Liverpool e loro dopo 10 minuti sono qua che bollano uno di 20 anni come scarso.

Avrà toccato si e no 3 palloni, cosa vuoi giudicare?

Ha un'accelerazione unica al mondo, non so se hai visto il contropiede nel finale, uno così ti spacca le partite da un momento all'altro.

Sono fantastici, al 1°gol lo dipingeva o già come nuovo Ronaldo e adesso dopo 10 minuti così così è già un brocco. 😂

Lo pensavo anche io, poi ho visto l'accelerazione di Mbappè... Mamma mia che giocatore il francese

È il primo a cui ho pensato, davvero assurdo quel gol. Il gol di Cristiano contro il Manchester united con noi, una volè paurosa.

Ma cosa dici? Il ferencvaros stasera ha dimostrato di essere un'ottima squadra che è riuscita a metterci in difficoltà, la scorsa partita lì abbiamo schiantati perché avevano giocato male, ma stasera sono più i meriti loro che i demeriti nostri, anche se non abbiamo fatto una grande partita

Io percepisco che siamo una squadra che gioca un calcio diverso da quello a cui siamo abituati e serve tempo per amalgamare gli uomini. Possiamo fare bene e possiamo fare male, ma non bisogna giudicare da una semplice partita

Esatto, la gente non ha ancora capito che in Champions non esistono partite facili, se le squadre sono qua è perché sono forti, che si chiamino Ferencvaros o Barcellona.