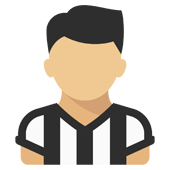 Content count

16

Joined

Last visited
Community Reputation
2
Neutrale
About F0rz4 Juv3

Recent Profile Visitors
The recent visitors block is disabled and is not being shown to other users.
Dobbiamo conquistare il campionato al più presto, sfruttando le 5 sostituzioni potremmo dare esperienza ai giocatori della Primavera e della U23 (se dovessero probabilmente perdere i play-off di Serie C) (un po' come fece se Vi ricordate Allegri nella partita Sampdoria - Juventus del campionato scorso) e far rifiatare i vari Dybala, Ronaldo e cosi via...

Pjanic purtroppo sta deludendo le aspettative. Fino ad ottobre stava facendo molto bene, segnando anche qualche gol e qualche assist. Però all'improvviso ha subito un black-out. A cosa è dovuta questa pessima stagione? Secondo me sta facendo male perché l'infortunio nella partita contro il Lecce l'ha indebolito e perché Sarri gli dà un ruolo sbagliato

Io vorrei tantissimo Joao Felix, magari si potrebbe aggiungere come contropartita anche Pjanic, Rabiot, Ramsey. Non so se l'Atletico accetterebbe ma tentare non nuoce

Di Douglas Costa ce ne dobbiamo liberare, ma non possiamo comprare Partey

ok sono un nuovo iscritto e questo non lo sapevo, forse ho letto male il regolamento

Io penso che la Juve debba andare forte su Tonali e sbaragliare la concorrenza dei prescritti al posto di comprare Chiesa (che alla Juve non lo voglio). Perin vorrei tenerlo come terzo portiere La gerarchia dei portieri sarebbe così Szczęsny Buffon Perin Pinsoglio

Credo che la Champions si debba giocare in un paese che non ha squadre attualmente partecipanti, siccome le partite si devono giocare a porte chiuse si può anche usare stadi con capienza minore. Per esempio si potrebbe giocare in Portogallo oppure in Polonia, inoltre questi paesi nel 2019 hanno ospitato due competizioni riconosciute da UEFA e FIFA. Il Portogallo ha ospitato la fase finale della Nations League e la Polonia ha ospitato i Mondiali U-20

Quella coppa vale doppio: oltre per certificare un merito sportivo, serve soprattutto per ricordare, rispettare i 39 Angeli che hanno dovuto sacrificare le loro vite per veder vincere la loro squadra del cuore. Onore ai 39 morti dell'Heysel Chi insulta i morti dell'Heysel è un hooligan

Riposano In Pace i 39 morti dell'Heysel

Ciao, sono un nuovo iscritto. Mi dite come si apre (se si può fare) una discussione?