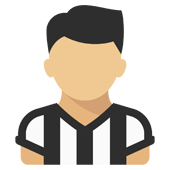 Content count

431

Joined

Last visited
Community Reputation
116
Buona
About Simo78

Recent Profile Visitors
The recent visitors block is disabled and is not being shown to other users.
la loro unica fonte di gioco è brozovic quindi credo che il mister ne metta uno a schermarlo: secondo me schiera un 4312, dove l'1 potrebbe essere o berna o mckennie

Operazione sciagurata il suo acquisto, magari qualche gol in champions potrà fargli da vetrina per una futura cessione. giocatore impresentabile a certi livelli.

Credo che nessuno che conosca il calcio e i calciatori a disposizione pensi che Allegri sia difensivista.

ottima prova difensiva, la coppia centrale dietro sempre al top. l'impressione è che con un attacco più valido si potesse andare lontano. ieri non bene chiesa e anche cuadrado quando è entrato, kean e kulu palesemente non adatti a questi livelli (ossia lo zenit).

E comunque ho visto la prima verticalizzazione di Arthur in due anni (su cuadrado mi pare). Altro miracolo di Max.

secondo me scezney desciglio - de ligt - bonucci - asandro ramsey - arthur - locatelli chiesa - kean - kulu

Se riuscisse a stoppare un pallone sarebbe davvero forte.

la pietra tombale su ogni discussione sono abrahm e pellegrini che allargano le braccia e invocano il rigore sull'intervento di szesny su miki. punto.

partita che con qualsiasi altro allenatore del pianeta sarebbe stata persa. questo è allegri, capace di cavar sangue dalle rape. ieri abbiamo schierato davanti chiesa alla sua peggior prestazione da juventino (e ci può stare), e kean che ha palesato tutti i suoi limiti: tranne una sponda, ha sbagliato TUTTE le giocate. se fossi in lui, mi sveglierei ogni mattina alle 6 e prima degli allenamenti inizierei a (provare) a fare almeno 3 palleggi coi due piedi e (provare) a esercitarmi con gli stop.

Rigore a parte, il nostro portiere non ha toccato palla. Avanti così

Simo78 replied to Deborah J's topic in Cestino

se ci fosse una finestra di mercato ad ottobre, sarebbe da approfittarne per cedere Kulu.