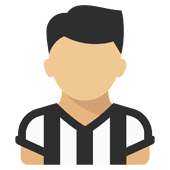 Content count

254

Joined

Last visited
Community Reputation
58
Buona
About Jovinista

Recent Profile Visitors
The recent visitors block is disabled and is not being shown to other users.
Allegri stop dal 2 novembre...la sua festa!! Mancini prende "solo" 3 M€. Questo è l'unico anno in cui, causa pausa mondiali di 2 mesi, si può cambiare in corsa, ed ottenerne anche dei buoni risultati. L'Italia è una squadra dinamica ed offensiva ed ha un allenatore che punta sui giovani. Avremmo una formazione molto più forte dell'Italia Campione D'Europa Schezni Danilo Bremer Gatti Kostic Locatelli Paredes Pogba DiMaria Vlahovic Chiesa Al posto degli infortunati: Miretti al posto si Pogba Milik al posto di Chiesa

Jovinista replied to ThiS2Vi's topic in Cestino

Prenderei Conte anche domani, se non esistessero gli attriti con la proprietà. Chiunque arriva deve essere supportato dalla società, stop ai giocatori che fanno il compitino ci vuole gente che corre e da tutto in campo. Non escluderei assolutamente Mancini che sa far crescere i giovani e le squadre sono offensive ed equilibrate. Prima dell'avvento dell'uomo dell'istant team avevamo i giovani più promettenti in circolazione ma non tutto è perso... Se lo mandano a casa subito...

Per me tenere Allegri è follia. Se in caso di uscita di Champions veramente si possa recedere dal contratto, allora ahi noi aspetterei il 02/11. Avremmo due mesi per prendere un allenatore che possa impostare un nuovo metodo di gioco ed una nuova preparazione. Chi? Vista la pausa nazionale e visto il gruppo di Italiani fermi ai box (che non hanno i mondiali) e visto che non credo abbia uno stipendio irresistibile prenderei subito Mancini (uno che sa gestire i giovani e che ha un'idea chiara di gioco). Si ri partirebbe da, Perin, Bonucci, Gatti, Miretti, Locatelli, Chiesa, Fagioli l'involuto Kean, Cuadrado e poi se non fossero convocati Bremer, AlexSandro e chissà Pogba.

Sei intellettualmente disonesto

No invece serve... Se non altro ha spoilerato quella faccia di M di allenatore che Usa scaricare sempre le proprie responsabilità sugli altri Ma adesso chi chiede scusa per la totale assenza di corsa, idea di gioco è volontà? Esattamente

Ha commesso una sciocchezza assurda... .... Ma a differenza del mister nullafacente... Ha gli attribuiti per ammetterlo

In difesa del mister... Come allena lui a tirare i calci d'angolo in porta (da scalzo)... È come campa di rendita del lavoro altrui da sempre Milan e Juve.... ......Non lo fa nessuno

... Ha detto pure che il giocatore che gli manca di più è Rabiot. Mi domando se abbia mai visto le statistiche delle vittorie della Juve con medioman Rabiot...siamo da medio bassa classifica. Questo non ha un'idea dei calcio e dei calciatori. Lui è quello che preferisce DeSciglio a Cancelo . La sua fortuna sarà che domani allena Landucci e con lui potremmo anche vincere. Maledetto mandatelo via immediatamente!!

Lui invece è ritornato per un amore da 9mln di euro, dopo aver fatto vacanza coi soldi ns per due annetti....

60 minuti che il Real Salerno ci ha messo sotto è voi continuate a difendere l'indifendibile. DeSciglio è Cuadrado terzini insieme non possono giocare, lo capitebbe anche un bambino. I ns centrali di difesa sono sempre in difficoltà. Kean è un incapace. La formazione è sempre sbagliata ed il * non ha nessuna idea di gioco.

Dusan e Milik devono giocare insieme. Solo uno come Allegri non lo capisce

Abbiamo fatto pena per 3/4 di partita... Siamo diventati come i prescritti che parlano dei rigori. Il Real Salerno ci ha messe sotto per almeno 60 min

Squadra senza alcuna sicurezza difensiva con DeSciglio a sinistra e Cuadrado a destra. Anche Bremer fa fatica in queste condizioni. In attacco Kean non è in grado di giocare a pallone. Allegri un autentico incompetente. Fuori dalle palle subito.