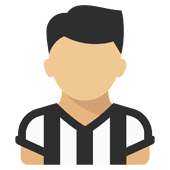 Content count

27

Joined

Last visited
Community Reputation
5
Neutrale
About ms415

Recent Profile Visitors
The recent visitors block is disabled and is not being shown to other users.
In pratica i soldi di morata li girano su perisic quelli di bernardeschi su di maria e dybala su pogba,più o meno

ms415 replied to alexpremium89's topic in Cestino

L'ultima volta che il clown di lotito è andato a dire ai 4 venti che non avevamo soldi per SMS tipo due giorni dopo abbiamo preso cr7. Buon segno

ms415 replied to mikerko123's topic in Cestino

Allegri prima di far giocare gatti adatta de sciglio o Alex Sandro centrali

Ripartiamo da cuadrado e alex Sandro 💪🏻

alex Sandro mezz'ala sinistra 😍😍😍 Grande vate 🔝🔝🔝

Comunque bella battaglia,speriamo si sia sbloccato da graca

Andata,ma cassano le ha cantate tutte pure sta volta???🎪🎪🎪

Ultimo eroico messaggio nella live "In caso di ban della diretta canale di riserva..." 😍😍😍

Avanti tutta Classiche porcherie quando affronti quelli più bravi tecnicamente

Grazie mille Grazie mille

Stagione da buttare a livello di risultati,gioco e gestione del gruppo e giovani. Non si è costruito nulla,si son viste in compenso decine di partite da voltar stomaco con calciatori ampiamente finiti preferiti a giovani almeno da testare

Anno prossimo sarà uguale Vedrai che a fine stagione ci troveremo magari quarti-quinti e devi rifondare di nuovo. Non ne esci fai come con sarri sai già di buttare via anni per poi ripartire da zero

Quando faranno il sorteggio per i playoff???

Assolutamente d'accordo basta vedere ieri che nel momento del bisogno è entrato un amebico arthur al posto di miretti Tra l'altro segnalo che ieri Manuel Pisano , attaccante della nazionale 🇮🇹 under-17, si trasferisce al FC Bayern München naturalmente gratis. Sta iniziando la fuga dei migliori giovani,tanto sanno già che con allegri in panchina rinnoveranno e continueranno a giocare i vari de sciglio,Alex Sandro bernardechi ecc Attenzione a fagioli a cui scade il contratto nel 2023,fossi in lui naturalmente me ne andrei tanto vuoi mettere il fenomeno di arthur???