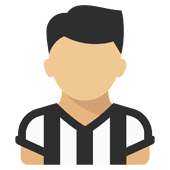 Content count

70

Joined

Last visited
Community Reputation
40
Neutrale
About RafaNadal

Recent Profile Visitors
The recent visitors block is disabled and is not being shown to other users.
Eviterei il rinnovo di Sandro (13 lordi), proviamo a puntare su Gatti. se poi Bonucci volesse farci la grazia di rescindere…

A simpatia non siam messi male

Liverpool, city utd Real psg vatti a vedere le loro rose, risultano nettamente (soprattutto in attacco) superiori al Bayern. poi se per te coman-chupo(ma sarebbe inferiore anche con Lewa)-gnabry sono superiori, de gustibus…

Verratti….. Come rosa nettamente inferiore ad almeno 3 inglesi, Psg e real

Non è male! Ma a centrocampo siamo pieni di giovani talentuosi: Rovella, Fagioli, Miretti, Ranocchia, Nicolossi, Barrenchea, ecc. I soldi vanno spesi sui terzini

Arthur perfetto per il calcio a 5. ancora non capisco come abbiano fatto a prenderlo: un giocatore che non riusciva a fare 60 minuti in Spagna

Ma anche ihattaren si sta allenando in gruppo, giusto?

Anche lui è pronto per serie superiori! speriamo possa finalmente debuttare con noi, manca solo lui

Boh, troppi infortuni muscolari

Io lo metterei addirittura titolare yildiz

Se noi avessimo fatto una formazione con tutti 20enni e 19enni stai certo che negli ultimi anni avremmo avuto qualche trofeo in più. ma preferisco vedere i 2003 in prima squadra ed i più forti della primavera in serie C. e fidati, che quando c'è da criticare non mi tiro indietro

La difesa è sempre stata scarsa individualmente (citi, dalla valle, negli scorsi anni nzouango ecc.) da inizio stagione, figuriamoci senza hujsen e con dei portieri che non sono assolutamente in grado. Montero ha fatto un ottimo lavoro. A voi interessa vincere i tornei giovanili o che i nostri migliori diventino professionisti ?

Dovevano fare di tutto per naturalizzare Martinelli. tra poco convocherà Camarda, il bambino del Milan

Ed ha lasciato zaccagni fuori?