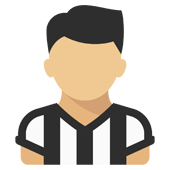 Content count

95

Joined

Last visited
Community Reputation
19
Neutrale
About MIG68

Recent Profile Visitors
The recent visitors block is disabled and is not being shown to other users.
MIG68 replied to homer75's topic in Amarcord

Quando ci vuole, va bene prendere spunto anche dal mitico Trap! Bravo Pirlo e tutta la squadra. #dnajuve

MIG68 replied to homer75's topic in Amarcord

Andrò contro corrente, ma Pirlo per me ha impostato la partita giusta contro questa Inter. Se giochi alto questi ti massacrano nelle ripartenze. Non gli abbiamo dato spazi e abbiamo approfittato dei loro errori dietro. Poi come gioco preferisco stare sempre nella loro metà campo, ma non possiamo ancora permettercelo con tutti al momento. E nelle ripartenze possiamo anche noi essere micidiali!

Quanto rosicano sulla Rai per il rigore! 😁😁😁

MIG68 replied to homer75's topic in Amarcord

Pablito lo ho amato come giocatore e ancora di più come persona. E la notizia di oggi mi ha distrutto... Decisamente mi sono spiegato male. Scusatemi ancora e riposa in pace Paolo

Confermo. Era una persona per bene. Il miglior Presidente che ho vissuto!

Addio Pablito. Una persona stupenda! E che giocatore. Pur tifando Juve mi ha fatto simpatizzare per Lanerossi Vicenza! d'estate andavo a vedere gli allenamenti del Lanerossi perché ci giovava Paolo Rossi! Mi mancherai

Ma va!!!!! Goditi questa vittoria! 🥳🥳🥳🥳🥳

Condivido in tutto! Ci siamo ripresi anche gli interessi! 💪💪💪💪

MIG68 replied to homer75's topic in Amarcord

L'unica cosa positiva di questa partita... Non vedremo mai più Berna in campo! 👍

Magari! Campionati nazionali fino a gennaio con playoff e poi si parte con Superlega da Febbraio. Sono vecchio ma le novità mi piacciono. E i campionati nazionali in Europa ormai sono quasi tutti senza storia (eccetto gli Inglesi)

Eheheh. Una giornata con in porta Buffon è questo è il risultato... Nessuno si aspetta l'uscita del portiere! 🤣

Oggi squadra più Allegriana che Contiana. Ma ci sta visto che in Champions non hai margini di errori. Bravo Pirlo! Prime impressioni.: Morata2 più forte e maturo di Morata1

MIG68 replied to homer75's topic in Amarcord

Work in progress.... C'è poca da dire. Centrocampo decisamente non all'altezza oggi. Certo che solo una squadra top ha potuto allenarsi per 2 settimane con tutti i nazionali. Indovina chi sono i furbetti? Ps. Il rigore era da ribattere. Non si può interrompere la corsa così. Non che sarebbe cambiato niente, ma un arbitro decente certe cose deve vederle.