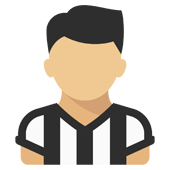 Content count

934

Joined

Last visited
Everything posted by andremax
andremax replied to giusardegna's topic in Amarcord

Mandzukic non l'ho citato , comunque io posso dire quello che voglio. Se tu preferisci Sarri, non condivido ma rispetto, senza insultare

andremax replied to giusardegna's topic in Amarcord

Sono d accordo. Tornare a una difesa fissa a 4 szszesny cuadrado Demiral de ligt Alex sandro bentancur Arthur mckennie chiesa morata Ronaldo e in panchina hai Danilo bonucci Rabiot ramsey kulusevski e dybala come cambi (in ogni caso, continuo a vedere una rosa nettamente inferiore al passato come caratura).

1

andremax replied to giusardegna's topic in Amarcord

Sono d'accordo su tutto. Il 433 sarebbe il nostro modulo, anche con Dybala, poi che lo metta dove vuole. In ogni caso, sminuiamo tutti gli errori arbitrali che ci sono costati almeno 5/6 punti e io non mi lamento mai degli arbitraggi. Ma quest anno è evidente questo ostruzionismo e sono infuriato con Agnelli che dovrebbe essere più presente, non so cosa stia facendo quest'anno sono sincero

1

andremax replied to giusardegna's topic in Amarcord

In ogni caso, un anno di transizione era fisiologico, con la graduale fine di un'era (prima Barzagli, poi Pjanic, Khedira e Matuidi, adesso Buffon e Chiellini, tutti uomini di esperienza calcistica e umana impareggiabile, a parte il buon Sami che ha avuto modo di rivelarsi uno scarafaggio). Però, non mi sarei mai aspettato risultati così deludenti, perdendo punti sanguinosi con Crotone, Benevento, Verona e Fiorentina, oltre al pareggio all'ultimo istante con la Lazio. L'unico modo per sopperire a questa transazione sarebbe stato forse richiamare Allegri e avere un guizzo sul mercato, ma ciò non è avvenuto. In ogni caso, il COVID non ci ha di certo aiutato, azzerando gli incassi e la forza del nostro stadio.

andremax replied to giusardegna's topic in Amarcord

Non mi dire che il Milan ha un centrocampo tanto superiore? Il problema è che paratici si è appiattito e non ha più fatto quei colpi che si sono rilevati in passato decisivi (Barzagli, Vucinic, Vidal, Pirlo, Pogba, Tevez, Khedira, Coman, Dani Alves, che ci hanno spesso e volentieri aiutato sul campo e a mettere a posto il bilancio). Gli acquisti di Bernardeschi, Rabiot e Ramsey ne sono un esempio lampante, tre giocatori normali pagati o stipendiati pesantemente. Ricordo sempre che un giocatore importante è meglio che tre mediocri. Io, ad esempio, avrei provato ad acquistare Ibra l'estate scorsa e avremmo vinto il campionato a mani basse. Quando avevamo preso Pirlo dal Milan sembrava un azzardo e invece è stata la nostra salvezza. E poi come farsi sfuggire hakimi e haaland a quelle cifre?

andremax replied to giusardegna's topic in Amarcord

Purtroppo concordo, questa stagione è segnata e, per la prima volta da anni, sento che non abbiamo la rosa più forte e completa. Avevamo fatto un solco con le avversarie economicamente e sportivamente, ma la perdita a cuor leggero di Marotta e ovviamente il covid con l'assenza di pubblico, oltre ad acquisti errati (Rabiot, Ramsey, Bernardeschi, facendoci sfuggire Haaland e Hakimi) hanno completato il cerchio. Il modo di recuperare il tempo e distacco perduto c'è, ma non certamente quest'anno. Io mi concentrerei a provare a vincere la Champions e ad arrivare nelle prima quattro posizioni (non sarà facile).

1

andremax replied to giusardegna's topic in Amarcord

Oggi è davvero importante vincere, non subire gol e soprattutto vedere una prova di squadra, oltre a vedere una reazione da parte di Bonucci, Bentancur, Dybala e ci metto anche Szczesny che subisce sempre almeno un gol ogni partita che scende in campo, pur facendo a volte ottimi interventi.

Auguri ragazzi, nonostante questo clima ostile derivante da federazione ed arbitri, riusciremo a toglierci delle soddisfazioni. In campionato sarà quasi impossibile, ma io vedo un'opportunità in Europa.

Non c è un complottò, ma è innegabile che c è la tendenza a sfavorirci.

Senza dimenticare il record di gol annullati ed espulsioni subite

Si quello concordo, ma se ogni partita non ti danno un rigore solare o concedi alla squadra avversaria di randellare, senza alcuna espulsione, di certo non aiuta

Stanno facendo di tutto per farci perdere e spingere le milanesi.

22

Mah, allora meglio la Roma

Se dobbiamo perdere lo scudetto, meglio Napoli che l'Inter ed è tutto dire.

Servono due acquisti importanti a gennaio: un centrocampista ed un attaccante (milik?).

Ieri mi sono concentrato molto sui suoi movimenti e passaggi. Sbaglia una quantità di passaggi, alcuni in zone di campo pericolose, che non è da grande giocatore. Inoltre, come successo più volte in passato, in fase difensiva si fa saltare troppo facilmente, anche in questo caso in zone di campo pericolosissime, e ci va troppo a cuor leggero. Non stravedo per lui, ma non è neanche un brocco come alcuni lo dipingono. Però, a mio parere, in un centrocampo top non sarebbe titolare e, difatti, fa fatica ad esserlo anche in questo.

Che cuore e unione in questo grande gruppo di ragazze. Girelli a mio parere

Vorrei vedere l'Inter senza de vrij, hakimi e lukaku. Vediamo quanti punti fanno. Noi abbiamo iniziato senza de ligt Sandro e Ronaldo. Assenze pesantissime

Mi auguro di no. Comunque mi ripeto, mancano due/tre pedine a questa rosa troppo corta: un esterno, una punta e un centrocampista forte (se esce khedira).

Se domenica non facciamo risultato con lo spezia vedrai che ridere. E Ronaldo sarà ancora a casa a fare i video vedrai

In tutto questo, Ronaldo è positivo anche stasera? Qui ci stanno prendendo tutti per il * ragazzi.