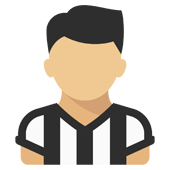 David Sergio Trezeguet
Utenti
Content count

229

Joined

Last visited
Se proprio devo scegliere tra Milik e Jimenez prendo quello integro. Se poi posso ancora scegliere tra Morata e Jimenez prendo quello che ha deciso partite importanti in Champions.

E' l'unico di cui abbiamo la certezza che non piace all'allenatore 😁

Evidentemente non si riesce neanche ad imbastire una cosa alla Tevez, non c'è altra scelta.

E' la cosa più intelligente da fare se non gli comprano i terzini.

Fosse per me prenderei tutto dalla Bundes, attaccante centrocampista e terzino. Il problema è vedere se il Bayern è d'accordo, i casi Vidal non capitano sempre.

Lotirchio quanto sparerebbe per Luis Alberto? Mi voglio fare una risata

Dopo Matuidi, un altro tra Khedira e Higuain fuori entro la fine della settimana sarebbe perfetto.

Sono scettico, i cartellini sono tutti 100 circa e in più hai da fare una gara per l'ingaggio con altre squadre top.

Il discorso è in parte condivisibile ma è totalmente irrealistico quello che pensi di fare poi con la cessione di quei tre. A malapena ne prendi uno di quelli che hai messo e forse neanche

Arthur per Pjanic è già qualcosa, ma non basta assolutamente.

Tu pensa che c'è stato un periodo in cui si doveva scegliere chi tenere fuori tra Pogba, Vidal, Pirlo e Marchisio. Poi pensa al centrocampo che abbiamo ora. Mi scuso per aver dato questa immagine a chi ancora deve pranzare.

Bene Matuidi, ma la luce in fondo al tunnel è ancora lontana con Khedira, Higuain, De Sciglio e Costa ancora in squadra che poi ce ne sarebbero altri ma va beh, questi sono quelli più urgenti da cedere.

David Sergio Trezeguet replied to colpodimano's topic in Cestino

Ronaldo-Dybala hanno quei numeri con un centrocampo patetico e indegno alle spalle, solo quello dico. Sistemiamo sto centrocampo.

David Sergio Trezeguet replied to giusardegna's topic in Amarcord

Voglio sentire il violinista Rodi Garcia piangere ancora una volta, dai ragazzi fatemi sto favore.

Fortunatamente è una * sto articolo e non ha senso,abbiamo preso Arthur. Jorginho forse era il piano c,d,e...fino alla z voglio sperare. Un giocatore nullo in fase offensiva e difensiva, finirà in una piccola squadra come è giusto che sia.