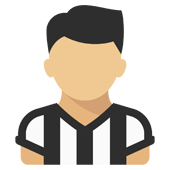 Content count

652

Joined

Last visited
Community Reputation
150
Buona
About zizou83

Recent Profile Visitors
The recent visitors block is disabled and is not being shown to other users.
Beh non è da 11 titolare, ma come riserva ci sta di brutto .

Mi piace vivere di ricordi 😂 lo so che è dura . Oggi le ho viste perse nel primo tempo .

Mi sembra un po' il cammino del 2006 . Se riusciranno a passare i quarti . C'è la Germania in semifinale e poi finale con la Francia .

Magari viene da noi come secondo portiere ?

Anche con Allegri era il fulcro del gioco . Una partita Buona e cinque no . Specialmente in Champions. Con Atletico e Man United, super Pjianic , ma le altre le ha steccate quasi tutte.

Sarà più dura per Sarri rispetto ad Allegri , perché trova si una squadra vincente, ma con tanti problemi tecnici e di mentalità di gioco . Allegri ha trovato una squadra , dopo Conte , già pronta che giocava a memoria reduce di pochi infortuni . Mentre qui ci troviamo con giocatori reduci da infortuni che hanno stentato ultimamente. bisogna avere molta pazienza.

Al suo posto Allegri non ne avrebbe vinta neanche 1 .

10 volte meglio di Acciuga .

Mihajlovic in seconda fila , Inzaghi ha firmato peccato 😂 Beh sarebbe il meno peggio.

Adesso che potrebbe arrivare un allenatore decente , ci vendiamo i migliori e ci teniamo i bidoni .

Guardiola Sarri Pochettino Conte questi in ordine , parlano tutti italiano e hanno un idea diversa tra loro e totalmente diversa da Acciughina. Quindi sarebbe un cambio radicale per la squadra .

Era a Londra , a parlare con Guardiola prima e Sarri dopo . Cmq da quello che leggo , vedo tanta presunzione, e tutti che sanno più uno dell'altro .

zizou83 replied to homer75's topic in Amarcord

Senza idee non si va da nessuna parte , puoi usare tutti i moduli che vuoi , ma quando per 5 anni abbiamo avuto uno, che detto da lui si diverte a spostare ai giocatori i ruoli un pò qua è un pò la, che non ci sono schemi , che lui ha vinto e gli altri sono solo perdenti , beh qui scendiamo un velo pietoso. Più lo sento ,e più mi fa pena questo allenatore . Grazie a dio c'è Pavel .

Sarri se Abramovich lo tiene non penso vorrà andar via . È veramente difficile prelevare i tecnici dalla Premier League, Inzaghi mi andrebbe pure bene , anche se una scommessa , ma se si dovrebbe risparmiare sull'allenatore , vorrei Milonkovic Savic , e Kulibaly almeno .