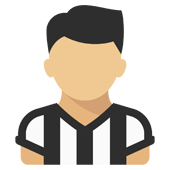 Content count

164

Joined

Last visited
Community Reputation
61
Buona
About kevinsera

Recent Profile Visitors
The recent visitors block is disabled and is not being shown to other users.
kevinsera replied to giusardegna's topic in Amarcord

Immaginatevi ora cosa starà pensando il buon Pellegrini. Paratici: Pellegrini cercati una squadra, non sei da juve Pirlo: FRABOTTAAAAAA

Dalle interviste fatte per me Danilo terzo di difesa sarebbe in fase offensiva, con l'altro terzino che spinge molto quasi attaccante aggiunto. In difesa l'altro terzino scala e si passa a 4

kevinsera replied to homer75's topic in Amarcord

bentancur e Ramsey tanta roba stasera

Il problema che sto vedendo attualmente con Matuidi è che sta scarseggiando pure in quello che dovrebbe essere il suo forte, ovvero essere un motorino recupera palloni

kevinsera replied to homer75's topic in Amarcord

Non mi vergogno a dire che questa Juve faccia pietà. Non si capisce che gioco voglia proporre, zero pressing, zero velocità, zero inserimenti e sovrapposizioni dei terzini e dei centrocampisti. È difficile credere sia un solo problema tecnico

kevinsera replied to homer75's topic in Amarcord

Higuain un tempo se le portava in porta direttamente certe palle, è incartato

Leucemia. Un in bocca al lupo grandissimo

Vediamo i punti a favore: - sicuramente il gioco della Juve sarà meglio di quello visto negli anni passati - è un allenatore che ha fatto bene ovunque, non ha vinto lo scudo con il Napoli perché contro aveva una corazzata. Viene da noi con più curriculum di Allegri e Conte quando li abbiamo presi - sicuramente darà nuova linfa all'ambiente essendo un tipo di allenatore diverso da allegri; potremmo anche risolvere la grana Higuain, può essere lo voglia trattenere? I contro sono che non è un nome altisonante ed esotico, e che ci si aspettava un allenatore rodato in champions ( ma sono pochi )

su Juventus tv daranno la premiazione?

piccolo ot: la premiazione sarà su Juventus tv?

kevinsera replied to homer75's topic in Amarcord

comunque piccolo appunto: Zuliani di Juventus Tv ci sta che difenda la squadra essendo direttore della tv ufficiale, però sta strabordando nella crociata a spada tratta. A sentire lui la Juve stasera ha avuto 0 difetti, e non si capisce allora come la partita sia finita 2-0 per loro con molte meno occasioni per noi ( mentre loro senza var vincevano 4-0 ). Io credo che sia negli occhi di tutti che la Juve sia stata inoffensiva in attacco e abbia pure sbagliato la fase difensiva, non capisco che problema ci sia nell'ammetterlo

ehh un pò impallato era, però per rispetto ci stava salutare

Ero allo stadio! sensazione di superiorità imbarazzante, mai sentito pericoli da parte del Bologna. Mi dispiace per Ronaldo che a fine partita è tornato subito negli spogliatoi ed è stato l'unico della squadra a non salutare i tifosi, non so cosa avesse. Impressionato da Costa, si vede che ha qualcosa in più

qualcuno mi fa una recensione rapida? Il canale merita?