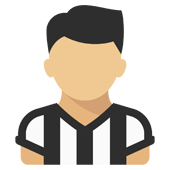 Content count

1,388

Joined

Last visited
Community Reputation
297
Buona
About mistral2727

Recent Profile Visitors
The recent visitors block is disabled and is not being shown to other users.
mistral2727 replied to giusardegna's topic in Amarcord

Oggi deve pensarci Cristiano.

Il pallone d oro è una buffonata... E qui state a fare i moralisti una volta tanto che qualcuno non dice le solite cose scontate.... Ma per piacere...

Can e buffon:perché??????!!!!!!!!!!

Per favore non citate a vanvera il PIÙ GRANDE di tutti, è peccato mortale... Lasciate stare

mistral2727 replied to homer75's topic in Amarcord

Ringrazio il destino e Sanculo per aver fatto saltare lo scambio Paulino Lumacu. Mai visto dybala come oggi, mai.

La Juve della maledetta finale di Amburgo è pazzesca.

Che squadra mamma mia, che squadra Mi basta vederlo e mi viene la pelle d oca.... Mamma mia... Il più GRANDE di tutti.

Ora asfaltiamo quel che resta del Milan e spacchiamoci le palle con la nazionale.

In sintesi: devono morire

Se solo avessimo preso Ilicic al posto di bernardeschi....misteri del calcio

Di partite così con allegri ne abbiamo vinte a bizzeffe.... Pazienza. Ma 3 punti.... Bene sarri si è allegrizzato.... FINO ALLA FINE

Baggio è sempre stato un "malinconico". La Juve per lui non è una colpa, non ha mai detto questo. Quando fu venduto dai Pontello era un ragazzino, aveva una pressione assurda addosso, c erano i mondiali alle porte.....con la maglia bianconera ha sempre dato il massimo. Avremo sempre il rimorso ed il rimpianto di non avergli fatto giocare la coppadeicampioni.

mistral2727 replied to homer75's topic in Amarcord

Ragazzi il pressing di stasera non lo vedevo dal 94 95. Il pressing c a z z o, il vero pressing. CHAPEAU SARRI.

mistral2727 replied to homer75's topic in Amarcord

Quindi Cuadrado era un brocco.....