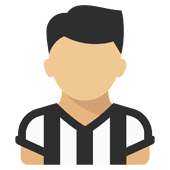 Content count

1,383

Joined

Last visited
Io ricordo anche gigi riva ma lui si ruppe direttamente la gamba e dopo trascinò il cagliari,ma sono infortuni diversi.

arlong87 replied to Lev's topic in Cestino

Sono d'accordo ma le squadre che in teoria vogliono vincere non ragionano sulla rivendita.

Con questo gioco mi chiedo a cosa serva un de ligt.Forse bisognerebbe sistemare la trazione anteriore.Tanto il gol lo becchiamo comunque.

Non è la prima volta che gli capita.Forse è un pò ansioso.

Con la fiorentina basta il pareggio.Il film della partita è già scritto.

Hanno rosicato per gli 0 3 contro milan e viola.Ma con allegri non è tanto meglio.

Vediamo se riprova danilo a centrocampo.

Ogni partita un pianto greco,ogni S-I-N-G-O-L-A partita.

arlong87 replied to homer75's topic in Amarcord

Infatti non si dovrebbero dire in un forum.

La russia minaccierà l'ucraina per anni,se aspetti loro il calcio fa prima ad andare in fallimeno.Lo united ha 600 milioni di debiti,il tottenham supera il miliardo.

Che è successo?Stanno migliorando tantissimo.

Tanto se ci sarà ancora la champions nel 2024,si riempirà di una marea di squadre mediocri e il ranking non servirà più a niente.

Queste notizie fanno sempre piacere.

Rummenigge rilancia la Super Lega europea: "Un'elite sopra la Champions" Il presidente del Bayern in un'intervista all'Equipe: "Le migliori squadre del continente dovrebbero creare una competizione riservata solo a loro". Rumenigge cita "Bayern e Borussia, Psg, Juve e Napoli, Barça, Real e Atletico, oltre a 3-4 top club inglesi".Questo e quello che diceva nel 2016.