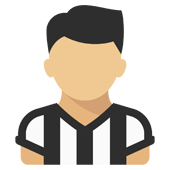 Content count

2,143

Joined

Last visited
Community Reputation
976
Eccellente
About Bianchi e Neri

Recent Profile Visitors
The recent visitors block is disabled and is not being shown to other users.
Weghorst avrebbe le caratteristiche che servono a noi, soprattutto in fase di non possesso, anche eventualmente per provare a giocare con CR7 e Dybala contemporaneamente (non sempre), certo non è più un giovincello però in un quartetto di attaccanti non ci starebbe male per nulla, avendo anche una certa confidenza con il gol.

Ripetete insieme a me...CR7 + Dybala a vita, CR7 + Dybala a vita... riprendiamo la nuova giornata con un desiderio sensato, da tifoso della Juventus. Buongiorno a tutti.

Ronaldo ha segnato 7 gol in 6 partite nelle fasi finali di CL da noi... stai sostenendo l'insostenibile, sai sì che Ronaldo fa un altro sport rispetto a Morata?!? Morata fa panchina da 6-7 anni, tra Real, Juve, Chelsea e Atletico non è praticamente MAI stato un titolare.

Ma non è vero questo, il centrocampo era giá distrutto, nell'ultimo anno di CR7 a Madrid quando vincemmo al Bernabeu c'erano già Pjanic Khedira Matuidi. Ronaldo non ha distrutto niente, si è sbagliato a comprare e soprattutto rinnovare a cifre spropositate, si sono fatti errori in altri reparti, è questa la realtá. Inviato dal mio iPhone utilizzando Tapatalk

Sì ma non sa usarlo nel modo che serve a noi, lui è uno da spazi ampi ma che fatica a proteggere palla e lottare da prima punta, anche oggi quando é entrato si è fatto anticipare un paio di volte. Anche Morata è una seconda punta atipica, nella maggior parte dei casi rende di più affianco a una prima punta pura. Certo, se trova gli spazi è incontenibile peró per me non è una priorità.

Ronaldo alla Juve ne ha fatti già guadagnare 500 di milioni, finché il GOAT è da noi si vénera e si ringrazia il Signore che possiamo vederlo con la nostra maglia. Il giorno che deciderà di andar via lo si saluterà e la Juventus continuerà ad esistere e vincere. Però credo che molti non hanno inteso che tipo è CR7, per me non avrà trovato pace fino a quando non ci porterà su in alto, per me non lascia ma rilancia.

Secondo me Dybala ha 22 anni, mentre Ronaldo 71....io sono senza parole.

È il contrario di quanto oggi ha annunciato il suo entourage. Ronaldo non ha alcuna intenzione di muoversi. Inviato dal mio iPhone utilizzando Tapatalk

finirà così....vabbè vi lasciamo David Silva ma ci portiamo via Luis Alberto, cià... Inviato dal mio iPhone utilizzando Tapatalk

Son almeno due mesi che lo dico . Dirò di più, se ci fosse un centrocampista d'inserimento potremmo pure mettere De Paul regista, allo stato attuale ci serve da mezzala.

era per chiedere se rimangono entrambi... infatti con Kulu e Arthur per Matuidi e Khedira già abbassi abbastanza l'età media.

No, aspetta, intendevo una Juve giovane ma Dybala e Ronaldo rimangono sì?...mi sono spiegato male.

sisi, intendevo una Juve giovane, ma tenendo Dybala e Ronaldo?

Giovane con Ronaldo e Dybala?