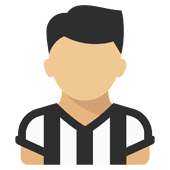 Content count

398

Joined

Last visited
Ci sarebbero tanti nomi, ma il primo che mi viene è Favero

Zavarov e Diego su tutti.

Mai pagato un centesimo per una partita di calcio e mai lo farò.

1

febox replied to giusardegna's topic in Amarcord

Partita totalmente inutile. Se segnano prima loro, sprofondiamo. Allegri docet.

Gli manca esperienza ad altissimi livelli. Aspetto altri miglioramenti da lui.

Certo che se bisogna aver paura dello Sporting allora siamo messi male. Ed infatti lo siamo, grazie ad Allegri.

Il divario tra noi e il Napoli per quanto riguarda il gioco è ancora più abissale della differenza di punti.

Facciamocene una ragione: abbiamo un allenatore che dimezza le potenzialità di questa rosa, facendola apparire più scarsa di quello che è in verità (Chiesa schierato terzino è l'esempio principale). E ci sono ancora tre anni...

non abbiamo uno straccio di gioco ed infatti quando usciamo dal territorio nazionale collezioniamo pessime figure anche con squadre tecnicamente inferiori a noi. Il giochetto dell'1-0 e tutti in difesa funziona solo nello scarso livello del nostro campionato.Purtroppo dobbiamo farcene una ragione ancora per tre anni. Il motivo lo sapete.

febox replied to homer75's topic in Amarcord

l'Involuzione di Vlahovic è davvero preoccupante. E' quello che sta patendo di più gli insegnamenti del Vate.

febox replied to giusardegna's topic in Amarcord

Prepariamoci a vedere un altro spettacolo indecoroso. Se passiamo in vantaggio, tutti in difesa a subire. Se andiamo sotto, affoghiamo.

La rosa sembra scarsa perchè abbiamo un allenatore che con il suo non-gioco non sa valorizzarla. Con Conte ora saremmo qua a scrivere una cosa diversa. Betancur e Kulusevsky docet... Il super Napoli di questa stagione non lo sarebbe se il Vate occupasse la panchina al posto di Spalletti.

Mettetevi l'animo in pace: Allegri resterà fino alla fine del suo contratto. E la Juventus affonderà con lui e il suo non-goco.