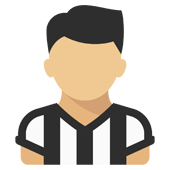 Content count

139

Joined

Last visited
Community Reputation
44
Neutrale
About rudde

Recent Profile Visitors
The recent visitors block is disabled and is not being shown to other users.
Per tutti quelli che con Allegri non sarebbe mai successo di farsi recuperare all'ultimo

Completamente daccordo. Poi non sarà Zidane, ma nemmeno Carrozzieri. Gli ho visto fare un colpo di tacco veramente da fenomeno. Poi parliamoci chiaro, ma perché Cr7 è un giocatore tecnico?

Per ora serve tranquillità, per fare i fenomeni c'è sempre tempo. McKennie titolare inamovibile

Ahahaha starà impegnato a dar da mangiare alle papere al laghetto sotto casa. Il vero problema è stato prendere Pirlo, troppo acerbo per una panchina del genere.

Tra Morata, Chiesa e McKennie abbiamo messo al passivo 140 mln bonus compresi.

Esiste anche la panchina... e in certi casi diventa essenziale

Speriamo! Ma la confusione vista in campo era tanta, troppa. E la coperta è corta nell'anno dove era importante averla lunghissima.

E' proprio questo il punto, 4 titolari fuori non so nemmeno tanti in una stagione come questa e già stiamo con la coperta cortissima

Era chiaro a tutti o quasi che con una annata del genere la panchine sarebbero state determinanti. Gli errori di dare via Romero e Rugani insieme, con Demiral e Chiellini che tornavano da un'operazione importante e De Ligt che si sapeva fuori per l'operazione alla spalla. Le scelte di non tenere Pellegrini, nonostante Alex Sandro fuori e di non prendere Emerson Plamieri o chi per lui si stanno facendo sentire. Napoli e Inter hanno panchine lunghissime e questo peserà soprattutto per il prosieguo del campionato. Oggi parole di Pirlo avevamo il solo Kulusevski come cambio lì davanti e dietro nessuno. Contro il Barcellona stiamo con Demiral, Danilo e Frabotta...

Vabbe che era la dinamo kiev ma contento di Morata cosa che non avrei mai detto e sorpreso da Chiesa sulla sinistra veramente forte

Il senso è che con Palmieri in prestito gratuito avresti potuto alternare ad alex Sandro un giocatore di pari livello, dandogli il tempo per recuperare al meglio e cercare di ritrovare la forma perduta da tempo ormai. Oltretutto avremmo dovuto pagargli solamente lo stipendio. Dulcis in fundo compri un giocatore sulla fascia opposta per 60mln perché quella sarà alla fine la cifra sborsato per un giocatore che é un Kuluseviski scarso che costa il doppio e prende il triplo di stipendio.

rudde replied to homer75's topic in Amarcord

Che é il primo punto del Crotone?