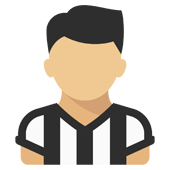 Content count

5,118

Joined

Last visited
Everything posted by AntonioL
AntonioL replied to Franciscus's topic in Cestino

Fino all'altro giorno si parlava di un medioman Adesso è un top player

AntonioL replied to homer75's topic in EURO 2020

Mai capita onestamente quella battuta... che diavolo si aspettava? Mah...

No ma faranno passare il Chelsea come l'Atalanta maxima. La squadra che con 2€ ha messo in piedi uno squadrone.

Falso. La differenza tra spese e ricavi è abnorme, tolti Hazard, Morata e Courtois, resta una valanga di soldi spesi. Praticamente quei 3 sono bastati solo per i cartellini di Werner, Havertz e Pulisic. Poi ci sono i vari Chilwell, Ziyech, Mendy, Jorginho, Kovacic. Kepa Arrizabalaga l'apoteosi poi: 80 mln di euro per il secondo portiere.

Intanto adesso si giocano le finali di CL e i magnati degli idrocarburi le vincono. Noi invece andiamo in giro per l'Europa a raccattare plusvalenze perchè gli azionisti prima avallano l'acquisto di Ronaldo poi nascondono il borsellino per paura che finiscano gli spiccioli del caffè.

Molto meglio lo sceicco. Gente che ha ambizioni e i soldi ce li mette davvero, non come i nostri proprietari.

Sono schifato dal conservatorismo e dalla mancanza di prospettive di questa proprietà. Agnelli ed Exor un freno a mano tirato dagli anni 90.

non vogliono spendere delsa è la classica soluzione al risparmio

Con Douglas Costa ci è semplicemente andata male perchè il giocatore che veniva da noi da Monaco era quasi un fuoriclasse del suo ruolo. E lo si è visto anche da noi. Al netto degli infortuni che comunque al Bayern non lo hanno mai fatto andare sotto le 35 presenze stagionali. Nessuno avrebbe detto che nel giro di due anni sarebbe diventato un ex giocatore. Quindi non capisco come si faccia a parlare di pessimo affare se non con il senno di poi.

Peccato che non è mai esistito questo scambio Coman che tra l'altro hanno dovuto aspettare per almeno 3 anni prima di farlo diventare un giocatore utile alla causa, ma comunque giocatore che non vale la metà di Douglas Costa al top.

Il modello di gestione Bayern gli ha pagato l'ingaggio praticamente a vuoto da Settembre. Grandissimi.

AntonioL replied to homer75's topic in Amarcord

Io mi sono stancato sinceramente. Di passare il resto della vita a vedere le vere big dominare non ne ho voglia.

Noi ambiamo ad essere simili al Real Madrid o simili all'Inter? No perchè io ho sempre sognato una Juve alla pari del Real.

Una champions in 30 anni perchè mentre noi racimolavamo gli spiccioli qua e là vendendo Zidane, Vieri, Paulo Sousa ecc. altri mettevano in piedi squadroni comprando i top e trattenendo i top. Servono soldi per competere nel calcio, altrimenti resteremo per sempre una cenerentola.

Elkann non ha ambizione per investire nel calcio al pari di come investono le altre big.

Con gli Agnelli non ha futuro questa squadra. Ma non da oggi eh, è dagli anni 90 che va così.. Saremo per sempre una mezza big.

Cessione societaria. Deve finire la Juve degli Agnelli e di Exor. Serve un fottuto sceicco.

L'anno scorso Dybala salvò la stagione di Sarri. Quest'anno Dybala non l'hai quasi mai avuto.

AntonioL replied to homer75's topic in Amarcord

Ennesimo goal grottesco divorato da Ronaldo. Credo sia davvero a fine carriera ormai. Grazie per aver vestito la nostra maglia.

Ma infatti il giocatore era talentuoso esattamente com'è Chiesa oggi, anche di più. Ma non ci sta andando bene con mezzo giovane da anni a questa parte. Tutti che partono bene e poi involvono fino a rasentare lo schifo.

Ma infatti il senso è che debbano entrare soldi e arrivare giocatori forti. Altrimenti se dobbiamo partecipare alla Super League per giocare con i parametri zero è meglio che spariscano Agnelli e tutta Exor..

Infatti guardo l'iniziativa solo in ottica Juve e dei benefici che può trarre la Juve, del resto mi frega quasi zero. Non ho rancore verso la Juve di Agnelli, sono deluso dalle scarse ambizioni di una proprietà che fattura 160 miliardi

Se serve per vedere campioni in squadra ogni anno, campioni che questa proprietà ridicola non ci permette di comprare, ben venga Ovviamente se ciò non avverrà e continueremo a veder una Juve monca con campagne acquisti perennemente incomplete sarò il primo a sfanculare la Juve di Agnelli

AntonioL replied to homer75's topic in Amarcord

E' proprio così... Inutile fare veleno, è l'anni in cui va tutto storto.