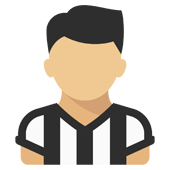 Content count

1,889

Joined

Last visited
Community Reputation
673
Eccellente
About AntonioL

AntonioL replied to The Road to Redemption's topic in Cestino

Non considererei Rabiot un centrocampista box to box onestamente se per box to box si intende uno che può fare tanto bene in fase difensiva quanto in quella offensiva.. Per me attualmente abbiamo solo due centrocampisti che possono fornire spunti offensivi con costanza, e sono Pjanic e Ramsey. A mio parere servirebbe un terzo e punterei su un giovane talento da prendere con una manciata di milioni. Però bisognerebbe cedere sia Khedira che Matuidi e non nego che mi dispiacerebbe un pò per il francese che secondo me può dare ancora tanto.

Ma basta con ste mezze leggende su Khedira, da noi ha avuto problemi solo il primo anno e l'ultimo dove tra l'altro è emerso un problema cardiaco. Nell'anno della finale e in quello dopo avrà saltato si e no 2 o 3 partite.

De Ligt arriva in serata?

Senza senso il mercato interno inglese. Senza senso. Hazard venduto a 100 e Maguire comprato a 89... mah.

Assurdo che a 120 milioni non ci abbiano provato, soprattutto ora che Robben si è ritirato. Così facendo lasciano che si rinforzino sempre le stesse squadre. Sta diventando un circolo vizioso. E sciocco pure l'Atletico a mettere queste clausole.

Ma la clausola di Griezmann è stata abbassata? Come mai solo 120 mln?

Ma Bernardeschi centravanti perchè? Ah giusto, per finire nelle critiche dei forummisti

Bravo Bernardeschi invece.

La differenza tra avere Mancini e Ventura come CT.

Avrà avuto anche molti infortuni però mi sembra che le sue partite nel corso delle stagioni le ha fatte eh..

Non abbiamo combinato nulla nemmeno noi nel primo tempo al di là del goal di Ronaldo. E pure i sassi sanno che in Champions non essere capaci di sviluppare una manovra offensiva insieme ad una difensiva è controproducente. Anche all'andata, tolto il discreto primo tempo nel secondo quasi il nulla, eccetto qualche giocata di un singolo.

Non lo seguono più. E hanno ragione.

Si. Basta vedere anche i risultati.

Non è per la questione di essere difensivisti o meno. Semplicemente le prestazioni dei nostri (Bonucci compreso) erano decisamente migliori nella prima parte di stagione, anche se ci sono molti utenti qui con la memoria di un pesce rosso. Poi è avvenuto il crollo generale. Siccome io non credo nè che i giocatori si imbrocchiscano di punto in bianco, nè credo ad un ammutinamento generale, l'unica spiegazione logica è che il lavoro atletico, tattico, tecnico e psicologico dell'allenatore sia stato errato o insufficiente.

Che dovrebbero dare lezioni ad Harvard.