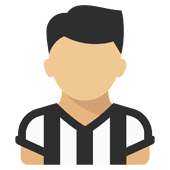 Content count

1,063

Joined

Last visited
Community Reputation
233
Buona
About Federico87

Recent Profile Visitors
The recent visitors block is disabled and is not being shown to other users.
0-1 Sekulov a fine primo tempo

Sono cattivo se spero in una goleada per Linari & Co.? Comunque nell'altro quarto Bayern - Arsenal 1-0 (Schuller 39')

Federico87 replied to paolo65's topic in Campionato

Allegri parlava di tendinite

Assolutamente, è alla prima stagione in A. Sono contento che non sia stato spostato nel ruolo di regista, ma possa continuare lo sviluppo come mezzala tecnica. E mi ha sorpreso anche dal punto di vista atletico, mi sembra averne abbastanza.

Fagioli panchinato da McKennie per 4 mesi non lo perdonerò mai A Gatti è mancato un passaggio intermedio tra Frosinone e Juve, ma bisogna assolutamente investire su di lui, perchè la situazione dei centrali non è rosea, soprattutto se continueremo a 3. Comunque Allegri che in conferenza sfodera un "Do you remember?" al giornalaio riguadagna molta stima.

Federico87 replied to paolo65's topic in Campionato

Grande partita del centrocampo, sopratutto Fagioli che oltre la qualità ci ha messo grande quantità. Però tante, troppe occasioni reali e potenziali perse per scelte sbagliate, quella di Soulè nel 1°T e di Dusan al 57' sono incredibili. Speriamo di trovare veramente la rosa al completo dopo la sosta e allora potremo divertirci.

Il Duca va assolutamente rinnovato. Assolutamente, soprattutto con questo Pogba. Se vedo Chiesa in Nazionale mi incazzo veramente

Federico87 replied to mercimichel's topic in Altri Sport

Forse dovremmo darci alla formula E, magari torneremmo a essere competitivi. Ingresso della Safety da inchiesta comunque, con Stroll in quella posizione.

Ma Raina cosa stava facendo con quel braccio alzato?

Partita non eccelsa, ma l'abbiamo portata a casa. Sarebbe fondamentale chiudere il discorso Champions Sabato prossimo con l'inter. A prescindere da come finirà la stagione, spero che in estate facciano delle profonde riflessioni sulla rosa, perchè l'anno prossimo sarà ancora più dura, soprattutto avendo i Mondiali. Col rischio di dover fare il percorso piazzate nei preliminari. Poi vorrei capire il senso di mandare via Lundorf per prendere Simon, ma ritrovarsi a giocare con Gama come terzino destro. Mah.

Palo Milan..è ancora lunga

Si sente molto l'assenza di Pedersen purtroppo...poi vabbè non abbiamo terzini di ruolo

3 sconfitte su 3 contro Ganz non ce la posso fare 🤣 Bene il rientro di Nilden..ma Boattin che cosa ha?

Credo che il mister si sia confuso. L'inter ha già perso in casa, con Empoli e Roma, semmai non ha pareggiato. Sui recuperi post sosta, si è detto già lo stesso a Novembre ed è cambiato pochissimo. La rosa al completo non l'abbiamo mai avuta.