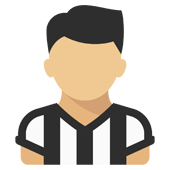 Content count

4,703

Joined

Last visited

Days Won

2
Community Reputation
2,141
Guru
About asturias7

Informazioni
Squadra
Sesso
Provenienza
Recent Profile Visitors
The recent visitors block is disabled and is not being shown to other users.
Volevo informarvi che la Weithofer ora gioca in Serie B con la Torres Femminile. E poi alla stessa Torres sono andate le due primavera Juve, Lorenza Scarpelli e Beatrice Airola.

Il Brugge meritava un 3-1, sinceramente. Sono un colabrado a centrocampo e in difesa. Navas ogni tanto li salva... mentre Donnarumma osserva dalla panca, contando le palanche.

Onestamente, non c'era da scandalizzarsi se vinceva il Brugge per almeno 3-1 vs il PSG. Possono avere quei tra davanti, ma per il resto sono un colabrado.

Forse andrò controcorrente, ma io non mi entusiasmo più di tanto. Già la settimana scorso dicevo ad alcuni amici che se la Juve non vinceva contro queste ciofeche, allora era proprio da buttare nel c*sso. Aspetto partite e avversari più difficili per dare un giudizio (che sia positivo o negativo). Esatto.

Ti svelo una cosa riguardo Cristiano: Se avessero chiamato Zidane, Cristiano rimaneva. Invece hanno preferito andare sul "sicuro" perchè, diciamo la verità, questa attuale società non ha le palle per cambiare e, magari, scommettere su qualcosa di diverso. Per lo più, il francese avrebbe fatto fare un mercato ben diverso da quel poco che si è fatto. Ora voglio vedere se gli altri saranno capaci di mettersi tutto il peso sulle spalle e di uscire da questa situazione. Ma il problema rimane: Ci sono giocatori NON da Juve, un allenatore con idee antiquate e un "gioco" inesistente, e alcuni giocatori che dovevano essere mandati via anni fa (e mi riferisco a certi senatori lameculos).

Lascio perdere quelli che non hanno gradito l'addio di Cristiano (e francamente me ne infischio)... ma mi pare che questo qua è l'unico che non ha detto né scritto una singola parola nei confronti del portoghese, né un saluto, né un ringraziamento, nada de nada. Condividi lo spogliatoio con uno dei più grandi fuoriclasse di sempre e stai zittto, muto come un pesce... e quindi, non mi sorprendono certe dichiarazioni di oggi nei confronti in tuo compagno di squadra. Dico il vero, Chiellini forse rimane uno dei difensori più forti degli ultimi anni, ma chi mi conosce sa benissimo che non mi è mai piaciuto come persona, né come capitano. Secondo me, se dichiari certe cose, spacchi ancor di più lo spogliatoio.

Certo que Luis Enrique ha una pazienza infinita... Morata continua a far hagare, pure in nazionale... e insiste pure a tenerlo in campo.

Vabbè che non puoi escluderle... però certe squadrette (scusa) non dovrebbero nemmeno giocare... ma dai, mio nipote di 8 anni gioca meglio di questi (Lituania)...

Finora tutte le nazionali stanno faticando a segnare contro le cosidette "piccole"... OK che tanti hanno cambiato formazione, anche in vista dei rispettivi campionati da giocare questo weekend.