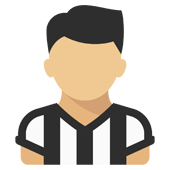 Content count

560

Joined

Last visited
Community Reputation
144
Buona
About Jagger64

Recent Profile Visitors
The recent visitors block is disabled and is not being shown to other users.
Puoi avere la rosa che vuoi, ma se te ne mancano 7 tra infortuni, squalifiche e Covid, tra cui i due che fanno la differenza davanti e dietro, la coperta diventa corta li stesso

Szczesny 5.5 Demiral 6.5 Bonucci 5.5 Danilo 6.5 Cuadrado 6 Arthur 6 Rabiot 6 Bernardeschi 5 Ramsey 6 Dybala 6 Morata 6.5 Kulusevsky 7 Frabotta sv Vrioni sv Pirlo 5

Buona Juve a tratti contro un bel Verona. Sfiga cosmica. Arbitraggio indecente. Kulusevski sta a Bernardeschi come Claudia Schiffer sta alla figlia di Fantozzi.

Beh, un gol l'hanno annullato anche a loro.... a me fanno più incazzare i due pesi e due misure usati nel valutare i falli

Verona che a tratti ha dato lezione di calcio, complimenti a Juric. Bene Ramsey e Morata, maluccio Dybala. Sfiga cosmica sulla traversa di Cuadrado e sul fuorigioco di Morata.

Il contesto è chiaro, e non mi riferisco solo alla riserva di Alex Sandro. La scorsa stagione è stata allestita (male) una rosa con vistose carenze in alcuni reparti (un solo terzino sinistro, un solo centravanti peraltro vecchio e quasi a fine carriera) e con molti elementi poco adatti al gioco proposto dall'allenatore scelto.

Non abbiamo in rosa uno con le caratteristiche di Cuadrado. Abbiamo alternative più offensive (Kulusevsky e Chiesa) o più difensive (Danilo).

L'Inter, volenti o nolenti, è comunque storicamente insieme al Milan la squadra di più alto livello in Italia dopo la Juve; è normale che un professionista quando lascia un club vada in un altro di livello più alto possibile.

per completezza bisogna includere anche l'Intercontinentale la Supercoppa vinte, quindi sono 4 su 7

E allora, se veramente siamo messi così male, bastava tenersi Pellegrini invece di mandarlo a Cagliari (in prestito, quindi senza ricavarci granchè)

Degli infortuni no, del non aver alternative in rosa sì. Bastava tenersi Spinazzola eh, non è che gli si chiedeva di comprarci Robertson

Marchesi, povero, grosse colpe non ne aveva. La Juve non aveva più una rosa all'altezza, gli altri avevano Maradona, Van Basten e Matthaeus, e noi avevamo sostituito Platini con Magrin... Zaccheroni, che è un buon allenatore, arrivò a frittata fatta. Maifredi e Ferrara furono un vera sciagura. Ma in rapporto al valore della rosa il peggiore in assoluto è stato Ancelotti, che riuscì nell'epica impresa di non vincere un caxxo pur avendo in squadra Zidane, Del Piero, Trezeguet e Inzaghi, e facendoci umiliare in Europa da Celta Vigo e Panathinaikos...

veramente ne ha vinte 6 1977 Bilbao 1984 Porto 1984 Liverpool 1985 Liverpool 1985 Argentinos Jr 1993 Dortmund quali? quando? forse solo il Cagliari una volta in Coppa Uefa...

Oddio, cosa mi tocca leggere.... Gioco totale???? La partita la vinsero con un solo tiro in porta, abbastanza casuale, e facendo marcare Platini a uomo da tale Rolff, che non lo mollava neanche quando amdava al ce.sso .....

A metà degli anni 70 il Magdeburgo era una grande squadra, vinse anche una Coppa umiliando il Milan in finale, il che me la rese simpatica a vita 😀 Purtroppo tra alte sfere del potere in DDR si tifava Dinamo Berlino, la squadra del famigerato Mielke...