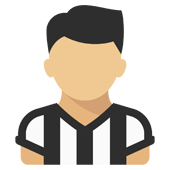 Content count

1,145

Joined

Last visited
Community Reputation
213
Buona
About Darknoize

Recent Profile Visitors
The recent visitors block is disabled and is not being shown to other users.
Staranno parlando di quando in Italia si giocava a calcio o del manto erboso di San siro ultima volta che l'han rifatto

Onestamente mi sembrano scarsi quanto noi purtroppo.

Dybala pensava che su secondo palo ci fosse cr7

Si però il vate per paura di prenderle non prova mai a giocarsi davvero la partita, me lo ricordavo un po' più coraggioso i tempi andati, qua comunque un Pellegrini o Arthur poteva anche buttarli dentro. Così ok corto muso ma rischi che sia dal lato sbagliato.

E aggiungi che il 9 gioca più basso del 10 é in pratica sei nelle mani do Cuadrado

E anche oggi si segna domani

Baricentro bello basso e il 9 che sembra che abbia alzerò voglia di sbattersi, altro?

Formazione da non prenderle, non mi piace.

Tecnicamente penso di fatto a gennaio 23 è già libero di firmare per un altro o sbaglio? Quindi c'è solo una sessione oltre a questa per venderlo.

Del tipo ve lo diamo ora visto che a giugno rischiamo di prenderne di meno e parte voi ora non c'è nessuno di serio ma facciamo che sia colo sua e passi per un mercenario e siamo tutti a posto.

Secondo me è il più scarso del lotto (Ramsey off record) zero visione zero tiro zero inserimento e pericoloso sotto pressione però si gioca in undici più panca, dobbiamo averne un altro sennò idiozia anche perché con 18ml nn compri chissà che. E anche sta cosa che son tutti sul banco del pesce in vendita nn mi piace abbiamo squadra di gente moscia che si deprime su ste cose altro che tirare fuori le OO .

Per quanto è lento non sorpasserebbe manco un camper

L'abbiamo alla fine distrutto noi mandandolo come un pacco postale al Milan, fino a lì l'esperienza era ineccepibile a memoria da noi.

Glielo lascerei onestamente.

Darknoize replied to alexpremium89's topic in Cestino

Penso più che altro lo prezzerebbe zero la Fiorentina a meno di giochi contabili (di cui non mi sembra tempo di fare).