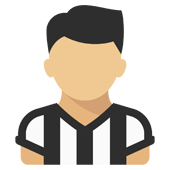 Content count

653

Joined

Last visited
Community Reputation
140
Buona
About Darknoize

Recent Profile Visitors
The recent visitors block is disabled and is not being shown to other users.
In Portogallo com'è il regime fiscale? 😀

Un grande, diciamo che con Nasi non mi sembrava molto compatibile, però in assoluto il migliore.

Oramai come dite in molti con Conte e Mourinho non possiamo più presentarci ai blocchi con Pirlo, per cui o Allegri o comunque qualcuno di spessore, dopo due anni cosi e non potendo rivoluzionare la squadra è l'unica via possibile se vogliamo ritornare.

Nove anni incredibili, prima o poi doveva accadere. Avrei preferito cadere lottando ma pace, è stato fantastico. Ora umiltà e ripartire 💪

Gattuso è bravo ma secondo me sarebbe mal digerito come Sarri, Zidane bello ma a rischio (per la terza volta consecutiva lo prenderebbero?) visto che ha allenato solo il Real nella sua vita, Allegri è usato sicuro. Io, forte di una una rosa secondo me superiore a quella degli altri in A (Sarri ha vinto con meno), andrei per Allegri dopo 2 anni così, dobbiamo ricostruire e bisogna partire da alcune certezze.

Pensano al salary cap e per quello secondo me hanno ostacolato il progetto, altro che storie.

Tudor? Mi sembra il modo migliore per non entrare neppure in EL

Abbiamo provato l'approccio populista, uno vale uno... beh no, abbiamo fatto una caxxata. Peccato di superbia, ma dopo 9 anni può capitare. Che la rosa sia superiore in tutto innegabile. Si impara dagli errori, speriamo di non pagarlo troppo e che li correggano. Fino alla fine, anche di questa stagione.

L'idea può aver senso dal punto di vista di bilancio, spero solo abbiano già il compratore del polacco

Ecco questo mi sembra un testo almeno scritto con grano salis o quantomeno professionale. Per il resto, tutte cose che condivido da Laporta, colui con le spalle alla porta.

Dimettersi lui, ma va. Al max la famiglia che lo "sposterà" a far altro se lo riterrà opportuno (e onestamente da Marotta in poi non ne ha azzeccate tantissime).

Il primo della lista e Bernardeschi sono d'accordo, sugli altri che siano peggio de Benevento non credo. che siano messi a caso e demotivati questo si

Io nn penso che i nostri siano diventati brocchi di colpo. Ma se non sai cosa fare e non hai gli stimoli giusti o non ti prendono abbastanza a pedate, ti rilassi. Ci infili una primadonna in spogliatoio e hai chiuso il cerchio.

Partita di buon livello, però ai tempi di Allegri sti 0-0 li vincevamo noi. Speriamo lezione ci sia servita (me compreso) e che dall'anno prossimo tornino palle grinta e un mister vero.