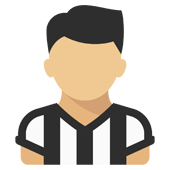 Content count

7

Joined

Last visited
Community Reputation
5
Neutrale
About MLF83

Recent Profile Visitors
The recent visitors block is disabled and is not being shown to other users.
Chiesa è generoso ma se fa quello che fanno Kulu o Berna in queste partite poi in area ci arriva poco e male, mia opinione. Poi magari si vince lo stesso ma è uno spreco. Non che Allegri è completamente rimbambito a mettere una mezz'ala nel finto 442 quando giocava Chiesa (e non doveva stare nei due davanti per infortuni vari). E' una soluzione bislacca ad un problema reale. Solo che negli undici in campo ne hai sempre almeno tre di problemi contemporaneamente. Adesso riesce a mettere una formazione simmetrica e "sensata" ma ci mancano Chiesa e McK ovvero due dei migliori prima che si facessero male...e resta comunque il problema principe della punta centrale. Sta squadra non troverà mai continuità perche ad ogni infortunio o calo di forma devi reinventarti un piano di gioco

Lo potrà pure fare ma a quel punto lo sfrutteresti al 50%, poi la gente si lamenta che Allegri lo castra e gli fa fare il terzino. Purtroppo abbiamo una coperta cortissima da ogni lato si guardi, avessimo un altro tipo di prima punta ad esempio già si potrebbero impostare le cose diversamente. Sono d'accordo sul centrocampo, e a me fa anche paura Bentancur, perché è l'unico che ci può dare quell'apporto in quantità ma poi contro avversari che lo aggrediscono è una mina vagante. Per contro devi rinunciare a uno come il texano che come abbiamo ricominciato a vedere è uno dei pochi che porta qualcosa in attacco.

Forse non avete capito che con Chiesa dentro (e soprattutto contro squadre migliori) quello che avete visto in queste due partite non lo potete vedere. Il problema è sempre quello, abbiamo una rosa costruita male che non ti permette di mettere i giocatori migliori in campo con un senso. Stiamo vedendo dei miglioramenti ma poi non vi stupite se torniamo ai Rabiot in campo e via dicendo...

Ma ancora non lo avete capito che è lui che vuole e sa giocare solo partendo lontano dall'area? Non avrebbe fatto la metà dei gol in carriera se non partendo da lontano e giocando a rimorchio. Lo faceva uguale con Sarri...

Quando ho letto della nuova formula non riuscivo a crederci: poi hanno fatto le anime belle perché la SL è chiusa ma un girone di 36 squadre che NON si affrontano tutte è veramente una roba imbarazzante. Ma poi dal punto di vista di vendita del prodotto non ditemi che è meglio, anche solo per spiegare una cosa del genere al telespettatore medio ci vuole un'ora di prepartita.

Vabbè ma non fanno altro che citare minimi e massimi delle sanzioni previste dall'articolo...chiaro che fa più sensazione dire che potremmo essere retrocessi anziché dire più giustamente che se anche fosse accertato un illecito si tratterebbe al 99% di una multa...