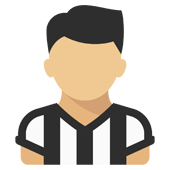 Content count

328

Joined

Last visited
Community Reputation
96
Buona
About Figio79

Recent Profile Visitors
The recent visitors block is disabled and is not being shown to other users.
Concordo sullo star calmi anche perché è un giocatore che si esalta in certi tipi di partite, ma contro difese chiuse non offre lo stesso contributo. Non è un caso che facciamo fatica proprio contro le difese catenaccio perché ci manca uno da ultimo passaggio

Peraltro mai come quest'anno arrivare primi significa evitare una big

In realtà se domani perdono vanno fuori

Szczesny 7. Super parata su Zaza altrimenti commenteremmo ben altro risultato. Chiesa 6. Volitivo e atleticamente sul pezzo, ma tecnicamente davvero limitato. Cuadrado 7. Nel primo tempo non ha azzeccato un passaggio. Rabiot 5. Molle e impreciso. Sul resto concordo

Figio79 replied to homer75's topic in Amarcord

2 punti letteralmente buttati. Un gol così non lo prendono nemmeno in terza categoria! Dybala penoso, a 15 secondi dalla fine non puoi regalare una rimessa laterale senza essere nemmeno pressato.

Nemmeno io.... Io non la vedo proprio (una via d'uscita)

Mica me lo ordina il dottore di farmi il sangue marcio, che commento è?!?

Mi sa che siamo in 2... Cenare presto, mettere a letto in fretta le figlie per vedere poi sto scempio?!? Ma anche no!

Squadra senza capo né coda, a cominciare da un allenatore acerbo come un caco ad agosto, per finire con una mediocrità tecnica imbarazzante. Questa squadra non entra tra le prime 4. Lo dico da fine calciomercato e ne sono sempre più convinto

Saremo anche sfortunati ma se non azzecchi mai, ripeto mai, l'ultimo passaggio non vinci neppure il giovedì a calcetto con gli amici

Figio79 replied to homer75's topic in Amarcord

Un giro palla così lento non lo vedevo nemmeno a calcetto con gli amici il giovedì sera. Questa squadra faticherá ad entrare tra le prime 4 e non sto scherzando. Un equivoco tattico unico, scelte di Pirlo misteriose, pochissima personalità, nessun leader, incapacità di creare coi singoli... Mancano pezzi da 90 come CR7 e Dybala ma se a centrocampo non hai chi accende la lampadina di partite ne vincerai ben poche.

Girone da passare in carrozza

Non è che perché hai Dybala rotto nel momento clou o sei costretto a schierare un primavera che allora ti accontenti di una punta qualsiasi per fare la riserva. Anzi, mi correggo, non è una punta qualsiasi : è uno che paghi e nemmeno poco. Se non è un affare e se lui non è all'altezza, si cerca altro! Hanno avuto 30gg per cercare una punta decente...

Ecco, forse è proprio l'acquisto di McKenny che ci fa mordere le mani. Avessimo riempito il secondo slot con un top nessuno avrebbe avuto rimpianti, ma anche ieri l'americano non ha dimostrato nulla più di un Locatelli o Barella nostrani.