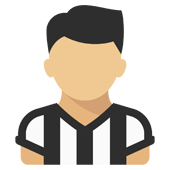 Content count

205

Joined

Last visited
Everything posted by Kick-off
Questi allenatori moderni hanno una concezione strana del trequartista. Allegri metteva Vidal Conte Barella e Pirlo mckennie. Una volta il trequartista era un giocatore tecnicamente sopra la media ora sembra cambiato, bisogna metterci un mediano.

Gli rispondi pure? La juve le ha prese dall'ajax di cruiff😂e pure l'Inter

C'è un livello di frustrazione alto dovuto al lockdown, io ho segnalato una dozzina di utenti vediamo se qualcuno li sanziona. Ribadisco che giocare a porte chiuse influisce sul gioco.

Kick-off replied to homer75's topic in Amarcord

L'unica cosa tornerei a riproporre portanova

Abbiamo rifilato un pacco al Barca inutile girarci attorno, due mesi fa dissi vedrete che quello là a Barcellona farà fatica. Infatti pure ieri sostituito, giocatore in fase calante da almeno 3 anni. Avanti con la linea verde e giocatori motivati

Kick-off replied to Montero non fa prigionieri's topic in Juventus forum

Auguri per il proseguimento della sua carriera lavorativa. Per quanto riguarda il lato sportivo solo conte poteva volere un giocatore così alla juve. Un onestissimo mestierante del pallone che si è trovato alla juve e per giunta titolare contro il Bayern Monaco più forte della storia, una roba da non credere.

Anch'io sognavo la premier league.

Bei tempi primo cambio al 89😅

Vorrei vedere più spesso Rafia e Portanova.

Quel "basta" potrebbe avere un altro significato. Basta dare fiducia a Bernardeschi, nel senso mai più. A parte gli scherzi auguro a Bernardeschi di riprendersi.

Al momento sono 3 flop, costa non ha ancora giocato 90 minuti, gioca sempre 20 minuti. Rugani e Desciglio nemmeno in Francia giocano per fortuna che sarri e allegri allenavano una ferrari. 😂 Che balla.

Usato sicuro? La serie A su dimostra ancora una volta una casta i nomi che girano son sempre gli stessi. Ogni anno prendono il patentino decine di allenatori ma fateci caso, i nomi che girano son sempre quelli.

Responsabilità collettiva ma come al solito Bonucci c è in senso negativo, ogni goal che prendiamo c è sempre il suo zampino. Dicono l'esperienza, ma cos'è questa esperienza vero Leo? Ogni volta il centravanti avversario segna. Non deve girarsi

Una domanda ma la maglia blu dove è finita? Questa arancione mi da i nervi visivamente parlando.

Sergio brio ha perso i capelli dopo aver visto questa foto

Infatti howedes ritenuto marcio, eccolo. Era un ottimo giocatore

Ragazzi gli assist goal valgono solo per il fantacalcio... Di assist ne ha fatti molti di più, sa mettere ottimi palloni in mezzo.

Allenatore in declino retrocesso a empoli Modena Siena, non è che puoi sempre trovare una panchina.

Kick-off replied to homer75's topic in Amarcord

Mi mancano le intuizioni geniali del mister Sturaro terzino dx Padoin mediano Dybala centrocampista Lamina alla garrincha Mandzukic ala sx E anche il pubblico

Kick-off replied to homer75's topic in Amarcord

Ogni anno stessa storia, il Barca peggiore degli ultimi 20 anni.