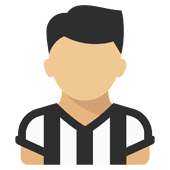 Content count

147

Joined

Last visited
Community Reputation
24
Neutrale
About Unavitabianconera

Recent Profile Visitors
The recent visitors block is disabled and is not being shown to other users.
Ha una brutta cera ultimamente.....

Sono onesto , Kulu l'ho visto poche volte. Ma tra andata e ritorno con il Milan mi è bastato, inciampa ancora da solo. Arthur 15 20 minuti può farli meglio di Paredes il tamarro

Stanno in tutti i modi tentando di distruggerci, proprio il sistema che fa il tifo per le squadre a cui hai fatti i complimenti. Quando ci hanno penalizzati hai sentito qualche dirigente di queste squadre spiaccicare una parola di solidarietà? Complimenti a sta cippa

Dopo la telecronaca di Bergomi domani disdetta totale a Sky altro che solo calcio

Unavitabianconera replied to giusardegna's topic in Amarcord

Gatti e Rugani devono essere proprio scarsi per non giocare nemmeno questa....bocciatura definitiva

Grazie Paratici che lo hai portato lontano da Torino , pippone

Ma come fanno a esseri quarti in Premier questi

Dusan lo voglio vedere con un altro allenatore prima di darlo per perso. Sempre con questa maglia

Vorrei segnalare il grande impatto finalmente del subentrante Paredes....in una società di calcio appena appena seria senza esagerare questo era già fuori rosa da tempo

Sembra che vivano in una bolla , distaccati dalla realtà . Anche Bernardeschi era un giocatore di calcio nella bolla.

Contattato poco fa da Sky con super offerta. Risposto che stavo valutando di sospendere tutto l'abbonamento e non solo calcio per la vicenda penalizzazione juve. Non ha proferito piu verbo quasi sconsolato come se fosse una risposta già sentita. Tutti uniti fino alla fine

Non ricordavo bene per cosa , grazie per la risposta

Gravinuccio e company pensavate di farla franca anche stavolta vero? Le risatine si sono trasformate in smorfie di terrore. Dopo di voi voglio vedere crollare quel foglio di giornale buono per impacchettare le uova.

La formazione di partenza di ieri è oscena, fa paura il fatto che abbia sbagliato tutte le scelte pur vedendoli da vicino tutta la settimana. Poi però guardo la panchina e tra infortunati, rientranti a mezzo servizio non che la scelta sia così ampia. Io sarei partito ancora con tanti giovani dal primo minuto. E Gatti che tra andata e ritorno ha fatto più danni della grandine non l'avrei messo. Paredes ha avuto le sue occasioni, adesso basta e poi arrivederci a mai più. Kostic dopo il mondiale è impresentabile anche lui in panca. Milik è un danno enorme , Dusan aspetto ancora fiducioso ma per ora siamo ai livelli di Kean. Allegri concluda questa disgraziata stagione facendo meno danni possibili e poi ci si saluti di comune accordo.