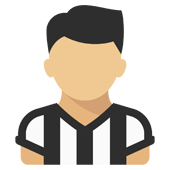 Content count

552

Joined

Last visited
Community Reputation
112
Buona
About Gontur

Recent Profile Visitors
The recent visitors block is disabled and is not being shown to other users.
Ma siete in grado di leggere? Brozovic ha scritto "partita scandalosa" ed ha ragione.

Devono mettersi in testa che dobbiamo adeguarci allo stile arbitrale europeo. Solo in Italia si arbitra in questo modo scandaloso che ci penalizza quando mettiamo il naso fuori dai nostri confini.

Un conto è giocare nelle squadrette di metà classifica, un conto è giocare in una grande squadra come la Juve. Ogni pallone toccato ha un peso specifico enorme e bisogna avere gli attributi caratteriali per giocare ad alti livelli.

Mah, non è detto che per capire qualcosa di calcio occorre necessariamente essere stati grandi giocatori.

Arrivato da noi si è spento. Bisogna avere carattere per giocare nella Juve.

Bah, hanno fatto una vaccata gestendola da pivelli. L'intento era quello di creare un'aristocrazia del calcio nella quale viene eliminato il merito sportivo. Il tutto per avere più soldi per coprire i buchi di bilancio. Dopo qualche anno di respiro i debiti si sarebbero ripresentati, ma con una entità di gran lunga superiore. Bene che la SL sia naufragata malamente.

Visto l'andazzo di Udine non è un'eresia ipotizzare che nelle prossime 3 partite si possano fare zero punti, è quello il problema.

Ormai c'è da aspettarsi di tutto da questa dirigenza. Spero bene stiano pianificando da tempo come muoversi per la nuova giuda tecnica

Non c'è dinero. Resta Pirlo. Purtroppo.

Io direi che dopo le figure fatte negli ultimi giorni dovrebbero avere almeno la decenza di fare il mea culpa e andarsene. Questi presidenti/dirigenti dilettanti stanno solo infangando il nome della Juventus.

Gontur replied to homer75's topic in Amarcord

Quasi quasi si comincia a rimpiangere la Juve di Del Neri...

Più che altro non avrebbe mai dovuto essere chiamato sulla panchina della Juve. Errore della dirigenza.

Serve rifare il centrocampo, sbarazzarsi di giocatori come Rabiot, Ramsey, Bernardeschi e mettere in panchina un allenatore con esperienza.

Non è il Barcellona di qualche anno fa, ma il test è sicuramente probante. Si doveva andare al Camp Nou e segnare almeno 3 gol e 3 gol sono stati fatti con una prestazione convincente da parte di tutti. Almeno sappiamo che la Juve si può esprimere anche con questo tipo di calcio, quindi il potenziale c'è. Qualcuno che ne capisce più di me mi dovrà spiegare come mai meno di una settimana fa con il Torino abbiamo fatto pena.

Che impresa! Non ci avrei scommesso neanche 1 euro e invece...