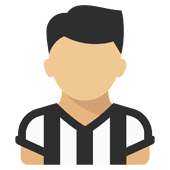 Content count

240

Joined

Last visited
Da tenere, ma solo se rinnova, non possiamo permetterci di perderlo a 0.

Nico89 replied to homer75's topic in Amarcord

hahahhaaha perdere 3 a 0 in casa lo chiami MIRACOLO? Ti prego dimmi che è sarcasmo

Puoi giocare quanto vuoi Gigi, purtroppo alcuni, anzi troppi, si dimenticano cosa hai fatto per noi.

15

Enorme. Sarebbe davvero un peccato perderlo...

Rispondo un po' col cuore: Del Piero Buffon Pirlo Senza sentimenti juventini avrei messo Maldini e Baggio

Per curiosità: quanti altri giocatori hanno detto che Allegri è stato il loro miglior allenatore?

Ma per favore, Barzagli da noi era un MOSTRO. Per qualche anno tra i top 3 al mondo a mio modesto parere.

Ragazzi mettiamocela via... prende 9 milioni l'anno, secondo voi si dimette rinunciando allo stipendio? E noi ci possiamo permettere di esonerarlo? Ennesima scelta sbagliata della dirigenza: riprenderlo. E ovviamente sostituendo campioni con * a pedali.

Ho detto che l'allenatore non ha colpe? Io non lo avrei ripreso, a 9 milioni poi. Però se hai a disposizione Bernardeschi, Sandro, De Sciglio, Rabiot, Bentancur, Rugani, (... devo andare avanti?) non si possono pretendere miracoli.

Che schifo ragazzi, bisogna cambiare taaaaanti giocatori.

Beh abbiamo sostituito Ronaldo con Kean...

Nico89 replied to homer75's topic in Amarcord

Colpa di Ronaldo l'accentratore sisi

Nico89 replied to homer75's topic in Amarcord

Poco da fare, inferiori in tutto: - Rosa, leggetevi i nomi, non solo negli 11 titolare - Allenatore, prova palese che si può essere una squadra offensiva senza prendere gol - Mentalità, un mix tra i due punti precedenti Senza contare che siamo orchestrati in mezzo da Bentancur, giocatore che non ha mai fatto il salto di qualità e Rabiot, uno senza palle, svogliato, che sbaglia passaggi a 3 metri. Dove vogliamo andare? Bisognerebbe cambiare tante cose.