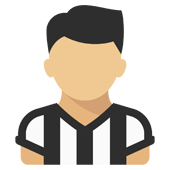 Content count

191

Joined

Last visited
Valela76 replied to homer75's topic in Amarcord

Cosa dice varriale maiale??

Ma poi i colpevoli sono stati presi?

Sembra la stessa tiritera per gagliardini.....preso dai prescritti sembrava iniesta......poi si è visto😂😂

mi spiace ma caschi male....ho avuto l'abbonamento per diversi anni...per ME l'effetto trasferta non è influenzato dagli applausi o gli insulti dei tifosi, se sei così emotivamente debole in serie a non ci arriverai mai.

La partita con i cartonati non ha insegnato nulla? Con o senza pubblico non cambia, secondo me tutte le dichiarazioni dei calciatori, "pubblico fantastico" " oggi i tifosi ci hanno dato una spinta in più" bla bla bla.... a loro fondamentalmente non gliene frega nulla... per il 99% è solo un lavoro.....

Figo.... grande giocatore ma uomo di %#<%% meglio così

Valela76 replied to homer75's topic in Amarcord

Non volevo dirvelo .... ma il Milan nella sua pochezza tecnica gioca meglio di noi.....

Valela76 replied to Jjilmioelettrocardiogramma's topic in Juventus forum

Presente in curva sud.....ancora i brividi nel ripensarci!!! Che partita!!!

Vorrei ricordare il presidente del Cagliari dare del "fenomeno" a mutuidi nelle interviste post partita 😱😱😱

Valela76 replied to homer75's topic in Amarcord

Bene non benissimo.......

Come tutti!!! Ma qui si sta parlando di altro 😉

Ragazzi qualcuno si ricorda la curva negli anni d'oro dei Fighters e drughi al delle Alpi? (Abbonato curva sud 3 anni di fila). C'era da avere paura tutte le volte, altro che adesso....comunque siamo arrivati nel 2019 per fare piazza pulita? Si è sempre saputo che per certa gente è solo business....