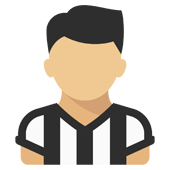 Content count

1,585

Joined

Last visited
Community Reputation
840
Eccellente
Recent Profile Visitors
The recent visitors block is disabled and is not being shown to other users.
Vedo una polveriera pronta ad esplodere a causa delle mancate cessioni. Se l'allenatore dice chiaramente che la squadra è sbilanciata e non si corre ai ripari non credo che su due piedi arriverà lo scudo.

I numeri non mentono: Higuain è sempre stato un giocatore molto più costante e determinante nelle strategie offensive della squadra rispetto al croato: basti anche vedere che il primo lo pagammo 22 e il secondo 90, le loro statistiche e la carriera. Mandzukic ha sicuramente più carattere ma nell'arco di una stagione non incide assolutamente come l'argentino(ripeto, basta leggere gli almanacchi e confrontare le statistiche). Anche l'anno scorso il Pipita ha segnato di più in campionato nonostante fosse stata la sua peggiore annata di sempre. Allegri è un allenatore che per sua stessa ammissione non organizza la fase offensiva e quindi uno che dimentica una fase a mio avviso non è serio e non dovrebbe allenare un top club, infatti è al mare.

Se Higuain fosse rimasto avrebbe certamente fatto più gol e assist di Mandzukic, lo dice lo storico della sua carreira. Stessa cosa Dybala se Allegri lo avesse fatto giocare nel suo ruolo, anziché fargli fare la mezzala, basta leggere le loro statistiche. Come volevasi dimostrare poi, arrivato un allenatore serio è finito ai margini.

Vabbè ha segnato gol che avrebbe messo a segno chiunque e se ne è mangiati forse il triplo. Higuain l'ex calciatore anche in una stagione orrida l'ha messa dentro più di lui. Il croato è oggettivamente un calciatore finito e c'è da dire che l'odio nei suoi confronti deriva dall'eccessiva fiducia posta in lui da Allegri.

Attenti a cantar vittoria, io credo andrà via gratis o quasi.

Più che altro il neopatentato ci ha consegnato una ferrari schiantata sul guard rail e il meccanico(Paratici) non ne sta azzeccando una nelle riparazioni. Comunque vinceremo il mediocre campionato italiano

Dybala è forte ma gioca troppo da seconda punta e non attacca lo spazio. Rende troppo facile agli avversari alzare la linea di pressing.

Guardiamo i lati positivi: Douglas Costa sembra tornato ai suoi livelli e Bentancur ha giocato una buona partita. Sui negativi: Troppi giocatori sembrano totalmente fuori forma e a una settimana dall'inizio del campionato non e' un buon segnale. A livello di gioco abbiamo fatto vedere pochissimo e a mio avviso sugli esterni e a centrocampo servirebbero un paio d'innesti. Dybala punta non mi convince affatto. Per me nelle prime partite faremo una fatica boia.

Bernardeschi come riserva ci puo' stare mentre Pjanic effettivamente gioca sempre peggio.

Matuidi, Higuain e Mandzukic dovrebbero capire per il loro bene che devono sloggiare.

Bernardeschi totalmente involuto, e' come se dopo l'Atletico Madrid abbia perso tutto il talento alla Space Jam.

Mica tanto qua dentro ma proprio la Juventus.

Douglas Costa di un'altra categoria.

Io penso che debba migliorare tanto per giocare come falso nove, deve prendere l'abitudine di attaccare lo spazio e non andare incontro al pallone arretrando.

In generale fra i pro direi Douglas Costa in palla. Contro direi Pjanic e Bernardeschi inguardabili, Khedira la solita mummia e Dybala veramente sembra un pesce fuor d'acqua: non e' mai in area, non si smarca mai, cerca sempre di liberarsi dal difensore uscendo dall'area, non creando spazi ma anzi agevolando la difesa avversaria a salire e quindi a pressarci alto.