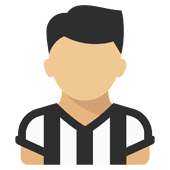 Content count

2,640

Joined

Last visited
Everything posted by juventino
Servirebbe più Carnevali.

Grande uomo. Grande esempio. Grande allenatore.

Danilo - Bremer - Alex Sandro

Corvino è tra i migliori in circolazione. È stato sempre sottovalutato Guarda basterebbero Carnevali-Rossi

juventino replied to giusardegna's topic in Amarcord

juventino replied to SuperT's topic in Off topic

Sono l'unico folle che si aspetta una vittoria nostra?

Ma la colpa non è sua! Cioè se ti offrono 9 milioni annui...

Juventus. Next Gen. Futuro. Poi però abbiamo paura di dare fiducia a Cambiaso, Pellegrini, Gatti, Miretti, Fagioli e Rovella

Quindi bisogna modificare il titolo della sezione in Juventus Next Gen

juventino replied to giusardegna's topic in Amarcord

Da salentino non posso che confermare quanto scritto

Adesso voglio Cristiano Ronaldo

Corvino chiede di aver fiducia negli acquisti del Lecce.

Rispetto la tua scelta. Semplicemente ho scritto che il colore rosa andrebbe usato spesso perché rimanda alla nostra prima maglia.

Devi comprarla anche tu in quanto tifoso

A me piace perché il rosa è il colore della prima maglia

In Mourinho ritrovo lo stesso clima della Roma da scudetto di Fabio Capello, allenatore difensivo ma che riuscì a far giocare insieme Del Vecchio, Totti, Batistuta o Montella, più Cafù e Candela che spingevano tanto!

Concordo. Mourinho sta dando tanto alla Roma e la Roma sta dando tanto a Mourinho.