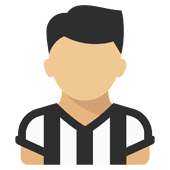 Content count

1,487

Joined

Last visited
Community Reputation
548
Eccellente
About AlexiousITA

Locatelli e Kean sono praticamente già nostri quindi poco da discutere Milik costa un tozzo di pane relativamente parlando, credo anche lì ci sia poco di cui parlare Paredes al momento si può evitare di riscattare, Fagioli finora ha giocato meglio

Bell'assist per chiudere bene questo ritorno in campo Kostic Bremer Gatti Danilo Pogba Locatelli Rabiot Chiesa Vlahovic Di Maria

Per giocare in Qatar non c'è un periodo migliore. Il problema è proprio che non bisognava organizzare i Mondiali lì, per tantissime ragioni ormai arcinote.

Scout di Juventus e Inter ieri hanno assistito a Bologna-Empoli per visionare Fabiano Parisi. [Nicolò Schira]

Peccato perché stava uscendo una impresa epica. Però quel fallo tecnico fischiato a Spissu fa ridere, senza dubito sarebbero riusciti a pareggiare...

Una società seria lo richiederebbe di sicuro

Esatto. Prima vincevamo con grande scarto nonostante gli arbitri/VAR perché molto più forti, ma anche adesso con arbitraggi normali ce la giocheremmo perlomeno.

Fantastici ragazzi! Questa è una nuova generazione di fenomeni, considerando che hanno l'età media più bassa sono andati a vincere Europei e Mondiale in un anno. Chissà che non sia la volta buona per esorcizzare la maledizione olimpica...

Sì ma non c'è scritto da nessuna parte nel gioco del calcio che la Juventus deve essere tre volte più forte di qualsiasi avversario perché parte con handicap

Nient'altro da aggiungere

No. Le più forti sono Francia (nostra prossima avversaria) e Slovenia Che goduria battere i serbi!

1

AlexiousITA replied to mercimichel's topic in Altri Sport

Mi sembra molto azzardato dirlo di un ragazzo così giovane...Io dico che ha tutte le possibilità per farlo e anzi spesso ha recuperato partite che stava perdendo proprio per la forza mentale.

1

AlexiousITA replied to mercimichel's topic in Altri Sport

Peccato. Sarà comunque una sfida che vedremo per tanti anni, con le dovute proporzioni forse la nuova Federer - Nadal

Grandissimi! Sempre una goduria battere i francesi spocchiosi.