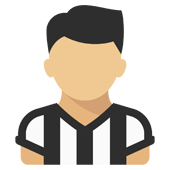 Content count

3,158

Joined

Last visited
Community Reputation
325
Buona
About Vingro

Vingro replied to LadyJay's topic in Cestino

Stiamo parlando del Dg che ha ritirato la propria squadra da un campo internazionale a pochi minuti dalla fine di una partita che il Milan stava perdendo... Per carità 😁😉

Stiamo parlando di un infortunio infinitamente meno grave, normalissimo per un atleta. Stringiamo i denti e andiamo avanti per qs 2 settimane. Solo 10 giorni...

Vingro replied to LadyJay's topic in Cestino

E mandali a farsi fottere...

Non ho capito cosa cavolo vuole dire, e soprattutto perché viene pubblicata come notizia. È una banalità assoluta. Il prezzo è stato già fissato, così come il doppio prestito.

Vingro replied to LadyJay's topic in Cestino

Intanto un oscuro membro del Coni, sicuramente napoletano, o comunque antijuventino, ha riferito sul corriere sport ( dove se no), che entro Natale, il risultato può essere cancellato... In qs casi la società dovrebbe davvero inc...si...

Non credo che Pirlo possa mai mettersi ad urlare come altri allenatori ; non fa parte del suo carattere, e sinceramente non so se può essere considerato un limite per il lavoro che fa. Ho comunque fiducia in lui.

E giustamente almeno oggi... Ha fatto una grande sciocchezza .

Siamo una squadra in costruzione e ci vorrà ancora tempo per raccogliere qualche risultato. Non mi sorprenderebbe tanto se qs anno la Juventus non riesca a vincere.

È meglio che prima vada a buttarsi Dybala.

Dybala doveva per forza entrare? In qs periodo è assolutamente inutile e dannoso.

Vingro replied to LadyJay's topic in Cestino

Mamma mia. Un articolo da incorniciare! Io non avrei dubbi. Le iene

Vingro replied to homer75's topic in Amarcord

Partita molto brutta, giocata senza velocità ed idee; il Barcellona, che fra l'altro doveva essere in crisi, ci ha surclassato. Tutti hanno deluso, salvo solo Morata, che dovrebbe fare un pellegrinaggio a Lourdes, e Danilo, unica sorpresa positiva di inizio stagione; per il resto fatico a trovare motivi di ottimismo, specialmente a centrocampo e per quanto riguarda Dybala .