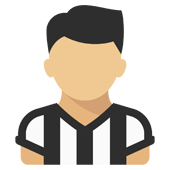 Content count

425

Joined

Last visited
Domanda... avevo intenzione di cedere alla Juventus il mio posto in curva sud1 per juve Parma. Ho letto che in caso di vendita andata a buon fine entro 5 gg vedrò nella sezione il credito maturato ed inoltre fino alla chiusura delle vendite ufficiali potrei "ripensarci" e riprendermi il mio posto.... ecco mi chiedevo se questo fosse possibile solo nel caso il posto non fosse stato ceduto fino all'ultimo momento? In poche parole io vengo a sapere in tempo reale quando il mio posto verrà ceduto? Grazie

Facciamo rientrare Romagna che tanto scarso non è... anzi a mio parere è superiore pure a Rugani

Anche Guido Vadalà era "il nuovo Maradona"....

Io lo prenderei anche subito

Poi se sbagli anche il mercato.....

Mi sembra chiaro che il nostro monte ingaggi ha superato la soglia limite. Purtroppo leggo di rinnovi con relativi aumenti ai vari Rugani, Matuidi etc. La soluzione ora come ora è solo una: cedere cr7 al miglior offerente e liberarci dei 31 mln netti annui che percepisce. Il bilancio lo metti a posto solo in questo modo. Col senno di poi 18 mesi fa Marotta aveva ragione quando ritenne rischiosa l'operazione Ronaldo

Forse non ti è chiaro: personalmente mi interessa meno di zero se è buona oppure è la peggiore del mercato, l'importante è che abbiamo un nuovo sponsor e che porta i money

Ma chi critica la qualità della Bud che problemi ha? Mica la società la deve bere, è solo una sponsorizzazione che porta introiti

FINO_ALLA_FINE85 replied to homer75's topic in Amarcord

FINO_ALLA_FINE85 replied to homer75's topic in Amarcord

Il problema è che ad oggi non abbiamo terzini .. quindi o gioca Cuadrado oppure non ne vedo alternative

Arriviamo al milione... forza!!

FINO_ALLA_FINE85 replied to Il maestro del calcio's topic in Juventus forum

A marzo l'Inter di Conte sarà dietro di noi di almeno 7/8 punti.

FINO_ALLA_FINE85 replied to Francesco Juve 2000's topic in Juventus forum

Ma de ligt è presente alla cerimonia? Da come ho capito si.. e la partita di domani?