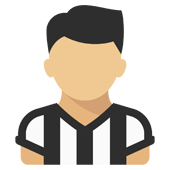 Content count

39

Joined

Last visited
Community Reputation
16
Neutrale
About Superjuventino90

Superjuventino90 replied to Tornado blackwhite's topic in Juventus forum

Siiiiiii sarebbe spettacolare!

Superjuventino90 replied to homer75's topic in Amarcord

Eh si hai ragione.. il bel giuoco infatti ha portato molto risultati….

Prima risposta al benzinaio. E qui ancora qualcuno lo idolatra

Entusiasmo, voglia di lavorare, giocate a calcio…. Max ❤️

Superjuventino90 replied to homer75's topic in EURO 2020

Io non tifo contro ne' a favore. Sono totalmente indifferente. E si ho subito un trauma molto grosso da gente con la maglia azzurra. Precisamente nel 2006

Curiosità: ma anche voi quando passa la sigla dell'europeo vi mettete a canticchiare: "in un mondo di John e di Paul io sono Ringo Star"? 😂

Io proprio non riesco a tifare per l'uomo dello scudetto di cartone..

Ah.. ma non e' con il bel giuoco che si vincono le champions??????? Chiedo per un amico..

Finalmente è' tornato a casa ❤️ Piango ❤️❤️❤️

Il momento di cambiare con uno scudetto vinto a dicembre?

Si trascinava con uno scudetto vinto a dicembre e un'eliminazione ai quarti di champions contro la squadra-rivelazione di quell'anno e mezza squadra infortunata?

Il fantino per lo meno adattava la formazione in base ai giocatori e all'avversario. Sarri continua a fare il solito gioco come prendere un muro a testate

Avete crocifisso allegri dopo aver ucciso l'atletico Madrid ed aver perso contro l'ajax con 20000 infortuni e ancora giustificate sarri!..