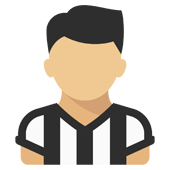 Content count

1,384

Joined

Last visited

Days Won

2
Community Reputation
1,066
Eccellente
About Viashino

Ha spazzato via Bentancur.

Appena prima la perde Rabiot su passaggio di Bonucci.

Appena prima del mancato intervento di Benta, Rabiot riceve palla da Bonucci e la perde malamente sul pressing dell'Atlantico.

Nella prima mezz'ora ottima Atalanta che ha meritato il vantaggio. Poi è uscita la Juve, anche perché i bergamaschi non nen avevano più fisicamente. Il loro vantaggio nasce dall'unico errore di Rabiot. Il pareggio alla fine penso sia il risultato più giusto, anche se ci saranno polemiche su come è arrivato. Infine, vediamo se vengono a scrivere i soliti trolloni del live.

Scarso come difensore, pessimo come commentatore.

Quando si sveglia la mattina, la prima cosa da fare sarebbe ringraziare la nebbia di Belgrado...

Un piccolo aneddoto che forse pochi ricordano : quello scudetto fu vinto dalla Juve, perso dall'inter, ma, SOPRATUTTO, perso dalla Roma. Infatti, i giallorossi sono arrivati secondi perché alla 30esima giornata, contemporaneamente alla sconfitta dell'Inter con l'Atalanta, pareggiano in casa del Venezia ultimo in classifica. Addirittura, i lagunari erano in vantaggio 2 a 0 fino al minuto 87 : 2 rigori concessi da Collina tengono in vita la Roma. Ma nessuno aveva fatto i conti con la Juve...

Domanda : per assegnare la fascia 1 della Champions' si considerano le vincitrici dei migliori 8 campionati. Se in Italia non si riprende a giocare, chi verrebbe indicata come vincitrice, e quindi inserita nella prima fascia? La situazione sarebbe diversa dal 2006, dove l'Uefa chiedeva solo l'elenco delle squadre iscrivi ilo alle coppe ; ora è necessario stabilire un vincitore, almeno dei principali 8 tornei. Qualcuno sa qualcosa? Le coppe europee sarebbero giocate in agosto.

Viashino replied to Brohi13's topic in Off topic

Ultima ora di Televideo Mediaset : slitta a giugno la riapertura delle scuole in Francia. Dedicato a quelli che "all'estero stanno gestendo meglio che da noi ".

Viashino replied to Broke.'s topic in Off topic

Primo sole dopo 3 giorni brutti e ricominciano i * che fanno passeggiate e corse ...