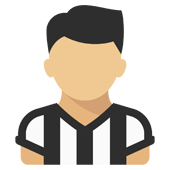 Content count

192

Joined

Last visited
sol86 replied to homer75's topic in Amarcord

Se mia nonna avesse le ruote sarebbe una carriola...che discorso scemo

Perché la Juve non deve giocare mercoledì contro il Milan, con un giorno di riposo in meno rispetto all'Inter????

Ok hai ragione, distrutti proprio.

Infatti la decisione l'ha presa l'arbitro in campo, fino a prova contraria. Se affidarsi o no all'OFR è anche a discrezionalità. Il regolamento suggerisce solo quando sarebbe appropriato farlo. In questo caso ovviamente non era possibile. Sono veramente polemiche sterili.

In Premier l'OFR non si usa praticamente mai, quindi lì sono irregolari?

Ahahaha addirittura distrutto psicologicamente. Mado' quanto melodramma.

sol86 replied to homer75's topic in Amarcord

Grazie, quoto in toto la tua analisi. Leggo troppi giudizi negativi sull'onda dell'emotività dove si prendono gli ultimi 20 min e si estendono a tutta la partita, cosa che non è vera. I tanti errori tecnici dei singoli penso siano dovuti in larga parte ai carichi di lavoro a cui sono stati sottoposti in queste settimane, che li hanno portati ad essere affaticati e poco lucidi. Concordo con il mister nel constatare che si è difeso, pur non come vorrebbe lui, con più "cattiveria" di altre partite e per me questo è un altro aspetto positivo.

A me fanno molta tristezza tutti quelli che si accaniscono contro Khedira solo perché' non riescono a capacitarsi del fatto che venga sempre fatto partire titolare. Come se l'opinione di 10, 100, 1000, 1 milione di tifosi possa in qualche modo, per somma di ignoranza, scavalcare l'opinione di chi dell'argomento se ne intende.

sol86 replied to homer75's topic in Amarcord

Poi francamente confrontarsi con la banda dei cinonesti anche no.

E' una cifra allineata a quella delle principali squadre di Premier (MU escluso). Le uniche che ci stanno sopra come sponsor di maglia sono le 2 spagnole. Smettiamola di mettere in giro informazioni false. A parte la regola del 30% del fatturato, c'è una commissione apposita della UEFA che verifica che le cifre delle sponsorizzazioni siano di "mercato". Se non lo sono si rischia la procedura di infrazione del FFP.

A parte questa regola, tieni a mente che c'è un organismo UEFA che verifica le sponsorizzazioni, e nello specifico che le cifre non siano fuori mercato. Poi che certi club la passino liscia a prescindere è un altro discorso.

Da dove vuoi che gli escano?

sol86 replied to homer75's topic in Amarcord

Ok quindi su 4 centrali disponibili, 3 sarebbe meglio metterli a fare i magazzinieri. Sulla mia seconda osservazione hai glissato, strano. Esagerazioni a parte, mi aspetto che mettere in campo uno che non sa difendere, faccia si che si parta sempre 0 a 1 per gli altri. Non mi pare che la sua carriera dica questo.