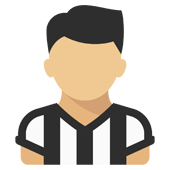 Content count

68

Joined

Last visited
Community Reputation
16
Neutrale
About Bayes

Recent Profile Visitors
The recent visitors block is disabled and is not being shown to other users.
Bayes replied to homer75's topic in Amarcord

Cambiando modo di giocare, per adesso abbiamo perso solidita' difensiva, senza aumentare la pericolosita' in attacco. Dobbiamo essere piu' veloci nelle transizioni, siamo troppo lenti nel ribaltare l'azione.

L'Inter abbassa il livello del calcio italiano 😂

Mamma mia Gomez che sceneggiata....

Ma come mai, ma come mai, i gironi Champions non li passi mai.....

Beh, per vincerla devi andarci in finale. Se la domanda implica and are in finale e perderla, beh allora no, ma mi chiedo chi direbbe si'

Senza pensarci due volte. Troppo importante vincere la Champions.

Nessuno discute il fatto che Berna non stia offrendo granche'. Si discute il motivo per cui Sarri lo faccia giocare spesso. E il motivo l'ha spiegato lui stesso.

Si gioca a calcio, non alla Playstation. La prima Juve di Lippi aveva Vialli, Del Piero e Ravanelli che tornavano a turno a dare una mano al centrocampo. A giudizio di Sarri, in questo momento Bernardeschi e' l'unico che sappia sacrificarsi. Poi, se non si vuole capire, va bene lo stesso.

Sarri l'ha gia' detto, non c'e' nessun mistero: per lui e' l'unico trequartista che abbiamo che sappia difendere. Poi che non stia offrendo la qualita' che ci si aspetta da lui, mi sembra evidente.

Bayes replied to homer75's topic in Amarcord

Mah, io non ho visto prestazioni negative ieri sera. Nei minuti finali c'e' stato qualche errore di troppo, anche da parte di Pjanic.

Ecco, per me Demiral e' molto piu' macchinoso di Chiello e Matuidi.

Boh, so che nel forum ha grande credito, ma a me sembra davvero troppo macchinoso.