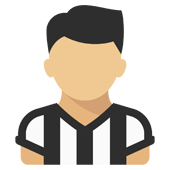 Content count

432

Joined

Last visited
Community Reputation
58
Buona
About Warrior_H

Mamma mia come stanno. Male, malissimo Comunque mi auguro che a quel Demente di Sconcerti qualcuno gli darà in testa perché non è possibile sentire certe affermazioni, danno troppo fastidio . Ma di cosa stiamo parlando ancora??

Ancora ti aggrappi ai tournover?? A livello di gioco non è cambiato ancora nulla. Dato di fatto

Questa Juve è ancora di allegri. Se sarri non riuscirà a cambiarla sarà semplicemente un fallimento. Punto

Warrior_H replied to homer75's topic in Amarcord

Ma portieri buoni non ce ne sono più in giro?? Sto scesni è ora dì iniziarlo a mollare. Prende sonno , sempre.

Warrior_H replied to homer75's topic in Amarcord

Perché con allegri non sarebbe accaduta la rimonta?? Balle e basta

Ma guardati il cricket che fai prima

La tua opinione equivale ad una realtà. Questo è il problema, purtroppo non stai sognando...

E beh certo.... l importante è sempre partecipare alla champions, giusto?? Soo sooldi arrivare fino ai quarti!! Oramai siete assuefatti dalla stessissima mentalità Europea della Juve.= 0

1

Sono pessimista , la squadra non mi piace e non vedo la competitività che ci aspettavamo, dove stavano partendo bene in questo mercato... ma dopo di colpo non si è capito più nulla come ancora tutt'ora , sulla questione cessioni. Il signor Paratici ho l'impressione che si sia incartato da solo e ora si ritrova con delle operazioni tutte bloccate, che forse secondo lui sarebbero state tutte di facile chiusura. Il campionato non ha più quell' appeal come la serie A di un tempo , la champions continua ad essere un incubo e rimarrà un sogno per chissà quanti caxxi di anni. Sinceramente non ho più la passione di anni fa per la Juve, poiché te la fanno perdere pian piano. Intanto comincerò a non seguire più le partite , o le vedrò raramente, solo per la champions..

Warrior_H replied to giusardegna's topic in Amarcord

Ma vi immaginate che questi hanno preso Sarri e faremo ancora più schifo di quando si giocava con allegri?? Roba da assistenti sociali davvero eh

Io per domani sera ho una grigliata ahahahaa E festeggiamo anche De Ligt vaiiii

Quindi l'inter è più avanti della Juve sui social?? Da cosa lo avete capito?

Le badilate mediatiche se le meritano tutte .. cosi imparano un po' a sapere gestire meglio questa situazione, il che ha fracassato di gran lunga i maroni . Società davvero imbarazzante, stann venendo fuori tutti i dubbi di questa società. La vedo molto acerba, su più punti. Però poi ci vengono a dire che è una società ambiziosa a livello su tutto. Ma dove???